Do sari-sari stores really make money? What is a typical sari-sari store income? And with that, we mean: are sari-sari stores profitable enough to sustain this micro-business funded from sources ranging from OFW money or life-long savings.
Sari-sari stores have been a part of Filipino retail tradition that has become an epitome of a basic entrepreneurial institution in the Philippines. They thrive side by side, even though the fate of one may be dictated by the other. Our childhood memories evoke a visit to a neighborhood shop hoping that our favorite snacks are still in stock and return home in a jolly mood.
The answer to this question depends on how much is capital money invested, so we'll try to set up a scenario with defined costs.
A decent start with this business costs about P50,000 while other entrepreneurs start it with a more decent budget of P30,000 or even less. To be honest, a few thousand worths of capital money can jump-start the sari-sari store business with a choice selection of candies, cigarettes, and other fast-moving goods.
For those with loftier visions and well-financed ventures, capital money of P70,000 to P100,000 will be realistic enough to supply a wider range of consumer goods with ample stocks to spare.
Cost of building materials, labor, and merchandise
A tiny 16 square meter floor area can already make a spacious sari-sari store and would cost an estimated P48,000 to P50,000 to build, using the P3,000 per square cost estimate factor.
With a P80,000 capital and a P48,000 sari-sari-store construction cost, P32,000 is left for merchandise capital. Indeed, a decent space sufficient enough to do a makeshift retail display area in a fairly populated neighborhood can already get the job done and save construction costs. But for those serious to take this business for the long haul, a great store facade will bring confidence and trust among the target customers.
For starters, the value of merchandise becomes a critical factor in sustaining the sari-sari store business. Capital outlay earmarked for goods will be distributed to at least five basic product items: canned items, sweets, beverage goods, plain food, and miscellaneous items. For those with larger capital outlay, additional products from retail categories such as wet goods, hardware items, accessories, as well as gifts, and novelty items can also easily make money, though decision-making must be made based on the type of neighborhood and seasonality.
Those with a limited budget can consider these additional categories added at a later time.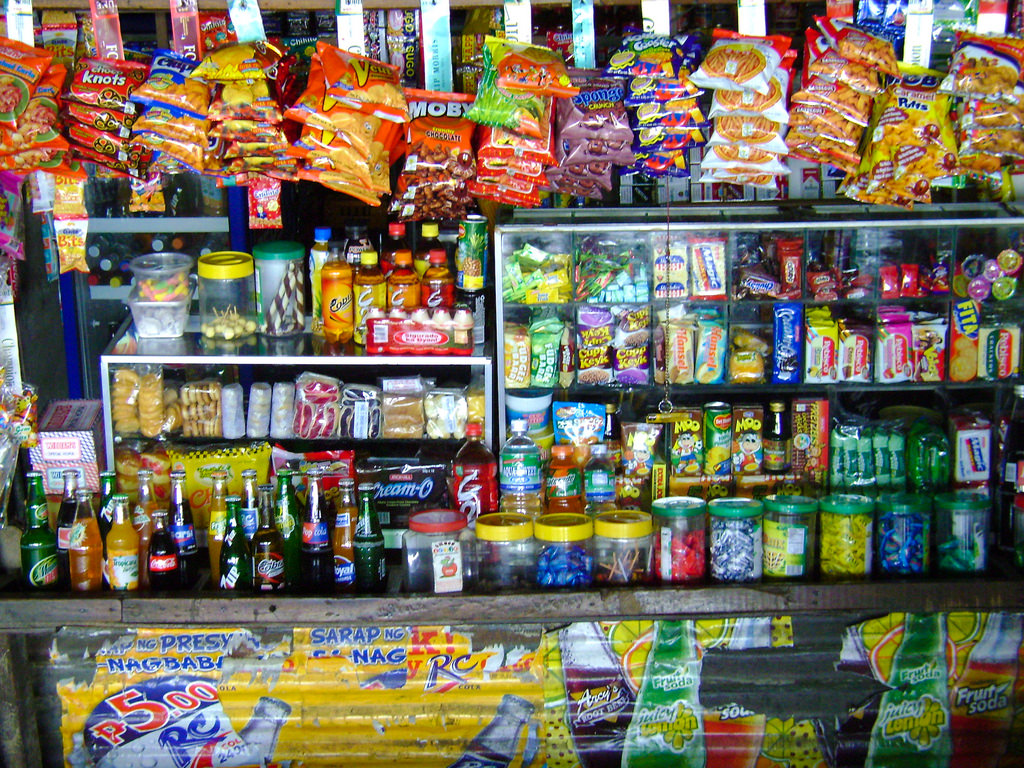 Breakdown of the merchandise cost
Canned goods: P6,000
Sardines, corned beef, pork & beans, tuna
Sweets: P4,500
Chocolates, biscuits, candies
Drinks: P9,000
Soft drinks, beer, alcoholic drinks
Food: P5,500
Eggs, instant noodles, rice, frozen meat
Miscellaneous goods: P7,000
Soy sauce, cooking oil, cigarettes, detergent powder, shampoo
Sales strategy
As an owner of a small business, it's important to get the goods sold as soon as possible so profits, no matter how small, gets reinvested or spent on utilities and business expenses.
Therefore, be mindful of what are the products that are sold out quickest and invest more in them, and less investment on items that take a longer time to sell.
Also, be mindful of the challenges that sari-sari store owners face: customers building up debt, inability to rightfully track the sari-sari store income and expenses, and deterioration of product quality, and pay attention to them as they emerge during your sari-sari store.
Failure to check these issues can lead to the downfall of the business.
Setting a 15% markup is a conservative but decent way to attract customers and enable them to sell goods faster.
Assuming our imaginary sari-sari store achieves a daily sales of P4,000 with a 15% markup, that means our profit is P600. This profit, unfortunately, cannot be used solely to replenish stocks.
Breakdown of allocation of profits
Daily consumables: P175
Energy and utility costs: P125
Miscellaneous costs: P50
Savings: P205
From the initial capital money invested into setting up the sari-sari store and procurement of merchandise, it takes at least 13 months to break even — provided we deliver a daily revenue of P4,000.
This is assuming you won't even be paying yourself or someone to look after the store, manage inventory and maintain its upkeep. The reality is that margins are too small for sari-sari stores to survive without effective management of goods, and people looking after them. While there are numerous success stories of sari-sari store owners overcoming challenges out of self-discipline and a frugal lifestyle, the odds are stacked against many others.
But all investments have risks and you'll never know until you try! Have a read on our guide to successful sari-sari store business.
Good luck!
Help Pinoy Negosyo
If you find this article helpful, consider donating to Pinoy Negosyo to help maintain content and server expenses. Thank you!