Carwash business in the Philippines is on a rising trail. Let's look at how this has been shaped. The local automobile sale in the Philippines has risen over the past years. For example, sales data from the Chamber of Automotive Manufacturers of the Philippines Inc. and the Truck Manufacturers Association indicate increase of 27.8% in January 2017 compared to the same month in the past year.
Given the rise in vehicles on the streets, there is a correlation in terms of demand for car services such as auto repair and conditioning, gasoline station, car insurance and, our topic for today, carwash service.
Is a carwash business is suitable in your area?
Deciding on setting up a carwash service depends on many factors:
Location of the business.
Is it near the highway and accessible for other business establishments? Obviously the business has to be visible, and patrons may want to visit other commercial premises before or after a carwash. Are there future developments that project increase in demand for carwash service such as planned car parks, commercial establishments or alternate roads? Is the speed limit of your planned location slow enough — 60 kilometers per hour or lower —  so patrons can easily notice your business?
Lifestyle of people in the area.
Is a significant share of folks in the area use cars instead of public transport to go to work? Do they live in condos or residences that don't have enough space or permission to wash cars?
Placement of competition.
Does an existing carwash service already operate in the area? Does it offer the same type of carwash service you are planning to establish (full service, self-service or exterior conveyor type)? Do you need to offer complementary services such as interior detailing, wheel cleaning or engine detailing?
Draw up a carwash business plan
When you have determined that an opportunity is available for a carwash service, it's time to get to the drawing board and outline your business plan.
Executive Summary
Business overview, who owns it, who operates it, its mission and coverage of services.
Company Description and Services
What is the type of ownership (you or a business partnership), what are the detailed list of services it offers, where is it located. Also describe your equipment, operating premises and nearby establishments.
Market and Location Analysis
Describe capacity of services, target customers, projected car counts served daily, estimated sales, case studies from similar businesses. Also include SWOT (strengths, weaknesses, opportunities and threats) analysis. Identify your ideal target audience (example: office workers who make weekend trips with family or taxi drivers who pay a visit daily). Make sure to get enough data from surveys, statistics available from local government and demographic analysis.
Competitive Analysis
Determine any competition (existing or in the future), their scope of services, advantages and unique selling propositions, and your projected opportunities to take market share from them.
Strategy and Growth Plan
Define your unique selling points and explain why customers should choose your business over existing competitors. What promotions should offer to your new customers or to retain existing ones? How do you advertise your carwash service (radio ads, automobile blogs, newspapers, flyers)? How do you want people to feel when they use your service? Would you price your service at a premium with superior service or cheaper and attract more clients?
Management Strategy
How many staff will you need and how will they be organized? Will they be full- or part-time, will they undergo training programs and will they handle multiple tasks or specialize a skill? How do you handle external vendors (machine spare parts, car part suppliers, etc)? How do you handle liability and insurance claims, client complaints, delinquent customers or emergency cases?
Financial Plan
Describe how capital outlay will be secured (loans or cash payment, installment terms on equipment), cash flow analysis, breakeven analysis considering all expenses (rents, salaries, utilities, government policies, gas prices, etc) on a monthly and quarterly basis. Similar analyses from other carwash businesses certainly helps as guidance. Financial planning should include computation of return on investment so investment — whether sourced from savings or secured as bank loan — can be repaid as expected.
Exit Strategy
If things don't work out exactly as planned, how long will you bear the company in the red while hoping for the business to rebound anytime soon? How long should your patience hold for the company to turn profitable without compromising service and delaying vendor payments and staff salaries?
Or if the business is growing and profitable but you can no longer handle it (medical reasons, moving to another place/country) or if someone is interested in acquiring it, do you have plans in place for succession?
You must be able to define a proper exit strategy so you (and your partners) will be able to wind down the business, dispose of equipment and pay staff separation benefits, and break your lease contract in a timely fashion.
Prepare financial resources
Apart from viability of business, financial capital is a vital consideration in proceeding with the venture. Whether it comes from pooled savings from investors and partners or secured from a financial institution, it provides a lifeline in starting up the business as it will be used to buy equipment, deposit for commercial space lease, government licensing and staff salary and benefits.
If you need additional capital funding, loans can be obtained from lending banks. For higher degree of success or getting granted a higher amount of loans, the business plan laid out above must be presented in an orderly manner.
Make your carwash business happen
Once the planning is done, the real hard work takes place next.
Get the paperworks out of the way
As with any business, a proper accreditation and licensing must be obtained before commencing operations.
Register with Department of Trade and Industry or Securities and Exchange Commission
Your carwash business will need a brand identity and will be registered with the government agencies as a corporation (SEC) or sole propreitorship (DTI). Such process doesn't take too long. Read our guide on how you can name your business and on how to register it with DTI.
Obtain Barangay Clearance
A barangay clearance is primarily sought for the purpose of getting permit from the barangay where the carwash establishment will be operating. To obtain this clearance, you need to prepare the following documents:
DTI or SEC registration
Certifications from fire and electrical inspections
Valid identification (passport, driver's license)
Lease contract if location is rented.
Obtain Mayor's or Business Permit
This is where you'll get the business permit for your carwash trade. You are then required to present the following:
DTI or SEC registration
Barangay clearance
Community tax certificate (cedula)
Valid identification
Vicinity map of your business.
Secure yout taxpayer identification number (TIN)
For purposes of settling tax obligations of your business, a TIN is necessary. Typically this is the same TIN you obtained when you first paid your taxes; there is no need to get a separate one for your business. If you forgot your TIN, you can verify it — check out our guide on this.
Other paperworks
Your business will need manpower to do the job: carwash staff, accountant, cashier, utility people, and others as needed. These employees are covered by government mandated retirement, health and other benefit schemes such as SSS, PhilHealth and Pag-IBIG/HDMF. Make sure you also take time to look after them as employees are the most valuable assets a business can have.
Look for carwash equipment
With your financial source available, start looking for reliable suppliers of carwash equipment, coordinate with dealers for after sales support. You can also start posting job vacancies for the position. Normally equipment operators, cashier/accountant and utility personnel mostly man a carwash business.
Find your ideal commercial space
Start looking for a commercial space that's located convenient enough for cars to take a detour and get a carwash. Close to other commercial establishments (coffee shop, grocery store, laundry shop or market) make the carwash break more attractive to motorists.
Register your business
Also don't forget to register your business, secure accreditation, get insured and display your license prominently within your business premises.
Market your business
Execute your marketing plan and advertise your business accordingly.  Based on your market research, try to connect with your target audience. If they are young, Instagram-loving folks, creating an IG account and posting best cars might help. If they are executives who read the local daily, advertising on the business page helps grab their attention. A free 11th carwash after 10 successful visits might encourage them to return and build loyalty.
What's important is that your business (notably your chosen carwash business name) will try to establish connection with these people.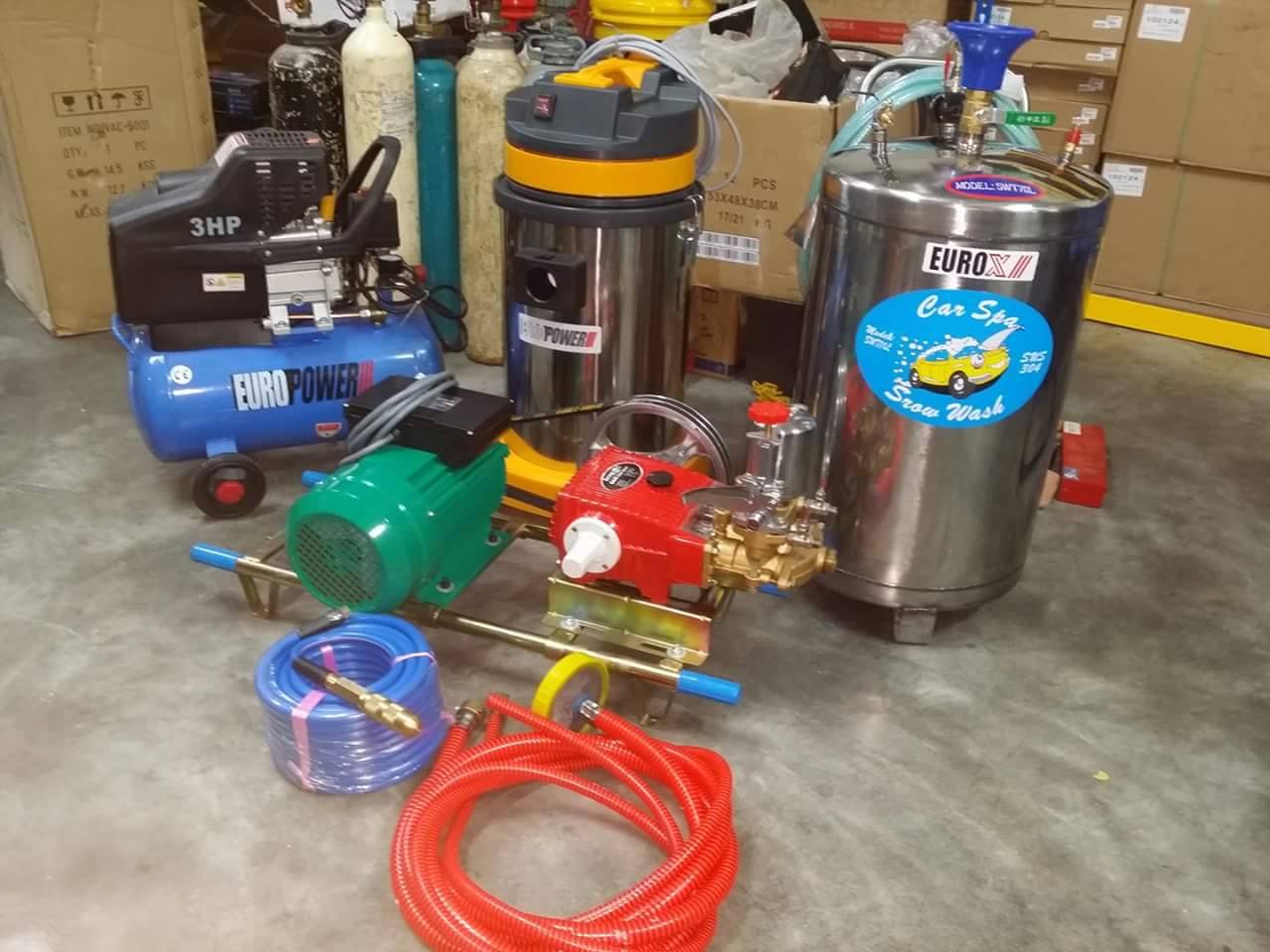 Carwash business cost and revenue estimates
For guidance, here are some of what you might need in your carwash business. These costs are estimates and your expenses may vary depending on your chosen level of service, target customer segments and service packages.
(All price estimates are in Philippine peso)
One-off equipment cost (excluding maintenance and parts): P26,000

| Equipment | Estimated Cost (P) |
| --- | --- |
| 1 x Pressure washer compact electric 1600 watts | 7,500 |
| 1 x Vacuum cleaner with blower, 750 watts | 4,000 |
| 1 x Power sprayer 1/2 horsepower | 5,000 |
| 1 x Pressure tank 340 liters | 7,500 |
| 1 x 2-step ladder | 500 |
| 3 x Water storage drums | 1,200 |
| 2 x Hose | 800 |
| 3 x Pails | 300 |
Monthly operating materials: P590 per month

| Materials | Estimated Cost (P) |
| --- | --- |
| 3 x Chamois | 350 |
| 30 x All-purpose rags | 40 |
| 4 x Car sponge | 200 |
Supplies: P26,000 per month

| Supplies | Estimated Cost (P) |
| --- | --- |
| 60 liters car shampoo | 9,000 |
| 15 liters car wash liquid wax | 8,000 |
| 15 liters Tire black | 7,500 |
| 450 ml car polish for detailing | 1,500 |
Labor and Utilities: varies

| Indirect Expenses | Estimated Cost (P) |
| --- | --- |
| Labor (per staff) @ P500 per day | 15,000 |
| Electricity | 2,500 |
| Water | 1,000 |
| Other overhead costs | 2,000 |
Proposed carwash fees 

| Services | Service Charge (P) |
| --- | --- |
| Vans | 150 |
| Taxis | 75 |
| SUVs | 150 |
| Sedans | 100 |
| Exterior auto detailing | 1,700 |
| Interior auto detailing | 1,400 |
Carwash service procedure
In a carwash service, assuming your service offer is full-service, an attendant wets car and loosens dirt with water before applying cleaning agents and detergents. Applying car shampoo, water and air creates a deep-cleaning foam, using the power sprayer. Car body is then scrubbed using soft piece of sponge or fabric to avoid scratching car's surface.
Tire black is then applied to remove dust and dirt as well as brighten the rubber tire.
Pressurized water jets provide powerful scrubbing action that is produced with a power sprayer for a pre-rinsing action. Final rinse takes place with lower pressure water to remove residual dirt, cleaning agent and other particles away.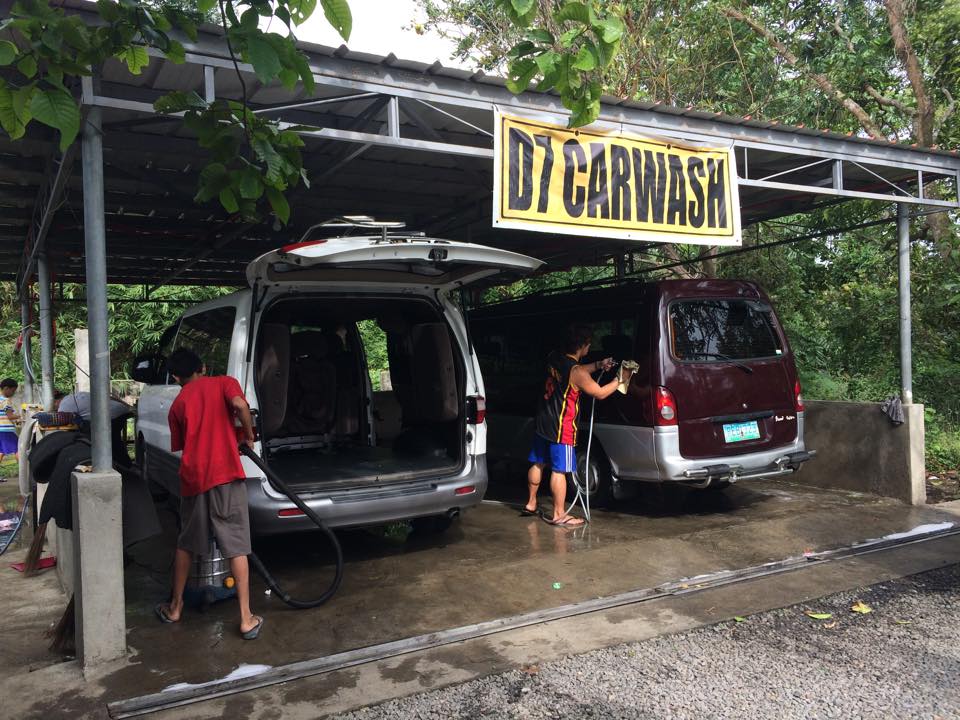 Once the car is fully rinsed, the whole body is wiped using the chamois to absorb extra water and moisture.
After wiping the car dry, attendant then applies car wax to polish it and protect car from dust.
Additional service may include cleanup of the car's interior, removing trash, vacuuming carpets and seats.
Conclusion
A carwash business can be a lucrative trade to operate on: growing number of car owners as alternative to public transport and rising mid-income population. With proper market research, sound business plan, efficient operations (hiring competent workers and using durable equipment and high-quality materials), your business is going to prosper.