Restaurants and dining places play a crucial role in a community. From an economic perspective, restaurants generate jobs and contribute to the local government's tax revenue.

But more than any local business's fiscal benefits, restaurants also help a sense of togetherness. Couples go there for a dinner date, families gather there after church or a Sunday trip to the cinema, and office teams go for payday bonding.
COVID-19 has since altered how we patronize eateries and restaurants, with no country spared from adjusting. What used to be crowded dining areas and shared tables have now seen installed dividers, masked servers, and the popularity of delivery options.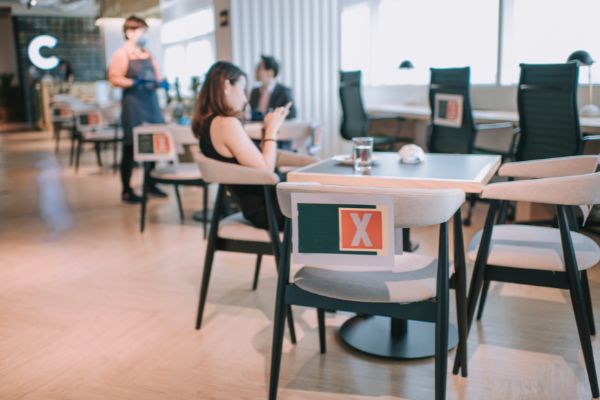 Extended lockdowns, lack of raw supplies or manpower, or drastic reduction of operating hours have significantly impacted the business. But while many restaurant businesses have folded as the pandemic ravaged communities, your small carinderia or a popular eatery doesn't have to follow its fate.
Here are some of the most practical ways restaurants can cope with changes in consumer behavior during the COVID-19 pandemic.
Learn and adjust to the language of your customers.
As people were restricted in their mobility, they tended to look at what was accessible. Therefore, having your neighbors notice your restaurant is critical to sustaining your business.
There was a surge in Internet searches for "near me" as people look for businesses within their vicinity. According to Google, search interest for "take out" increased by 285% within the first month the pandemic was declared.
Does your restaurant business have a listing on Google Business Profile / Google My Business? If so, include options such as "take away," "delivery," or other services your restaurant features.
Keep restaurant details accurate
People looking for a restaurant like yours need to be communicated with your listing's accurate information. Failure to do so creates a wrong impression that misleads your potential customers.
If they arrive at a time when your business is still closed, hungry customers will be mad and could leave a negative review online. If they arrive at a location found in Google search only to find a "we have moved" notice, they might even pledge not to enter your premises anymore.
Cover the bases by providing the correct operating hours, and exact address and make sure hour adjustments on weekends and holidays are also accurate. Your updates will appear on Google Search and Google Maps, so be mindful of the potential number of customers you'll miss out on if your online listing is not up to date.
In addition to basic details such as the name of the business, address, contact details, and operating hours, also include whatever attribute you can describe your restaurant.
Parking space
Mobility impaired access
Take out service
Delivery service
Etc
When users search these terms, and if they are featured in your Google Business Profile, your restaurant could appear prominently on search results depending on the search query or how close a mobile user is to your business premises.
Assurance of restaurant safety and sanitation practices
More than ever, customer decisions on where to eat rely heavily on the health safety, and sanitation of restaurant premises.
This means that your restaurant must communicate the importance of proper hygiene not only among those who eat inside the premises, but also in how food was prepared, and how workers adhere to social distancing, hand washing, and wearing proper attire at work.
Include a brief explanation of how your restaurant enforces these health measures such as frequency of cleaning or even employee sick leave policy. This can be included in your Google Business Profile and as printed signs within your restaurant interiors. This helps reassure customers but also helps maintain the health and well-being of staff.
Doing so can also explain why some cash registers are vacant to enforce social distancing — making customers understand that the longer ordering process is a byproduct of enhanced protocols to adhere to health precautions.