MARIKINA, June 10 (PIA)–Following President Rodrigo Duterte's instruction to revive and to strengthen the country's footwear industry, Department of Trade and Industry (DTI) Secretary Ramon Lopez and the members of the Philippine Footwear Federation Inc. (PFFI) identified possible solutions to existing obstacles that hamper the shoe industry's growth.
"Technological improvement remains an industry concern. While there are patrons who prefer manually-produced shoes citing their durability, still, innovation is crucial for the shoe industry to flourish and expand," Sec. Lopez said.
In a series of site visits recently (8 June), Sec. Lopez and DTI officials explored ways to level-up current industry practices with PFFI. For one, DTI already has a sustainable Shared Service Facilities (SSF) Project with PFFI that houses machines and equipment that serve as common service facilities for efficient, quality and innovative production.
Among the SSF projects is the High Value Custom-Made Footwear, which intends to capture market that prefers custom-made shoes, featuring new methodologies in shoe engineering, footwear design and manufacturing. It also uses state-of-the-art scanner that automatically produces a 3D model of the foot in seconds for measuring and size estimation.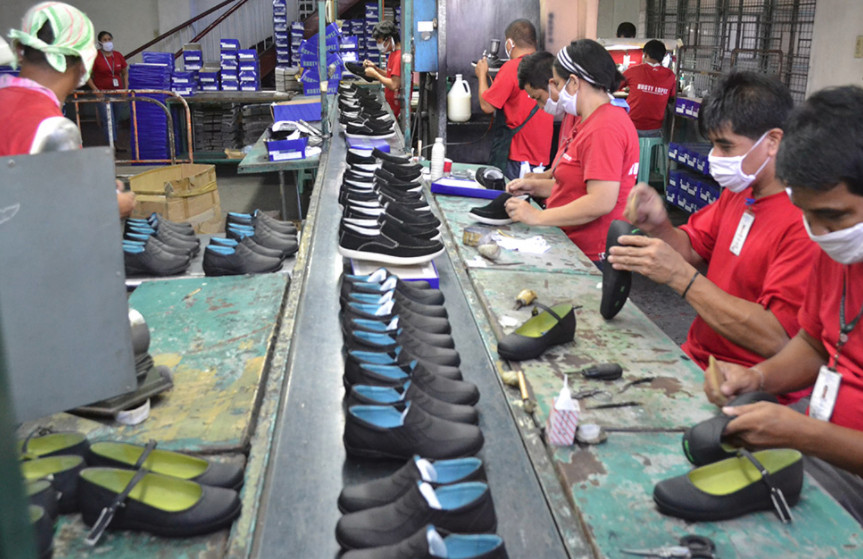 "Small shoemakers take turn in using the equipment. They need to expand the capacity and add more and newer machines," Sec. Lopez added.
Within the compound where the SSF is located is DTI's Negosyo Center-Marikina and the Philippine Footwear Academy that aims to produce job-ready workers for the Marikina footwear industry. The Academy is considered the first and only footwear school in ASEAN.
Meanwhile, the trade chief guaranteed PFFI that DTI remains committed in supporting the Marikina shoe industry from the policy and program level that will improve access to raw materials and supply chain, as well as enjoin government and private sectors to give preference in buying locally-made shoes.
Assistance on design creation through the Design Center of the Philippines up to provision of market access and promotion through the Go Lokal! stores in malls, national and international trade fairs and exhibitions, and the internationally-recognized Manila FAME will also be provided.
Headed by its president Roger Py, PFFI is composed of footwear manufacturers, retailers, cooperatives and allied industries from Marikina, Laguna, Bulacan, San Mateo and Cebu, whose members belong to the sector of micro, small and medium enterprises (MSMEs).
On the same day, Sec. Lopez visited production facilities of Gibi Shoes Manufacturing, Bristol Shoes and micro-enterprises like Ruperta Enterprises, all of which are Marikina-based. He called on industry leaders to initiate the kind of entrepreneurship that is idea-based, demand-driven and innovation-led.
He also visited Marikina's pride Rolando "Tatay Oly" Santos, the shoemaker, who gave President Duterte a pair of shoes as a gift, which the president wore during his international meetings with heads of state. Sec. Lopez learned the common sentiments of small Marina shoemakers in terms of machines, shoe molds and working capital.
Tatay Oly, who is currently borrowing from 5-6 loan sharks, got emotional when he was assured of working capital assistance from President Duterte's Pondo para sa Pagbabago at Pag-asenso or the P3 micro-financing program.
The trade chief also talked to some of Marikina's talented and hardworking designers and artisans, who also serve as trainers in DTI's SSF project for MSMEs aspiring to take part in reviving Marikina's shoe industry.
"The Filipino artisanship and craftsmanship in designs, plus the highly-skilled, highly-trainable workforce that showcase ingenuity despite stiffer market competition will help bring back the glory of Marikina as the country's shoe capital," he concluded. (DTI/RJB/SDL/PIA-NCR)