The pricing strategy of a sari-sari store is crucial to its existence and survival.
The sari-sari store has become an established retail platform in the Philippines, present in almost every corner street in the country, serving the community and fostering the entrepreneurial spirit in the neighborhood.

As simple as its setup looks, a sari-sari store not only brings convenience to households looking for things from coffee to condiments, soap to shampoos (of course in sachet packs). It also serves as a social joint for friends to gather or gossip to be shared. Its tingi-tingi selling strategy can maximize profits while making commodities affordable, though not economically advantageous, to customers.

However, as well-known as it is, the sari-sari store is a vulnerable business subject to its limitations, lack of formal business training, and unregulated competitive presence in the neighborhood. Many shops closed down after a year or so of operation. Yet, it looks like it's so easy to set up: set aside a small space in front of your house, fill it up with grocery items with the help of startups who help digitize pricing strategy, inventory management, and so on. And voila, you got yourself a sari-sari store — shop name and signs to follow later. But in reality, it's not as easy as it looks.
Why Sari-Sari Store Businesses Fail
1. Sari-sari store cannot supply required items.
Our previous article mentioned that lack of fiscal and store management experience and skills are among the top reasons why sari-sari store businesses fail. Suppose shop owners fail to identify which items sold out faster than the others. In that case, they fail to anticipate their customers' primary needs, resulting in low or depleted stock inventory. They often issue "no stock available" notices to customers, who are forced to find alternatives and stick with them if they offer quality products and a decent pricing strategy.

2. Sari-sari store overprice their goods.
There is a premium to convenience. Many customers would be willing to pay extra to save time going to bigger supermarkets and buying a cheaper version of the item sold at the neighborhood sari-sari store. However, excessive price markup can also turn off loyal customers who value their relationship with your shop.

If other neighboring shops offer cheaper alternatives, customers can easily switch allegiance at the expense of your business. Worse, they could file a complaint against you before the Department of Trade and Industry for price gouging. These complaints could lead to the cancellation of the license to operate, fines, or imprisonment.

3. Sari-sari store has double standards.
Specific customers can get preferential treatment because they're a so-called "certified suki" who regularly transact business with your shop. When they ask for a "favor" such as taking an item, say a can of corned beef or a case of beer with the promise of paying it later, your shop is already at a disadvantage not only on reduced cash flow but depleted stock which could lead to the item (1) above.

When your family is around the shop, they have free reins to take whatever they need. A singular unpaid item impacts the goods inventory and realizes the loss of income; would you ask your child to pay for that pad of paper she needs for school?
Which products should I sell in my sari-sari store?
One of the best ways to steer your sari-sari store in the right direction is to sell a list of merchandise your customers are searching for.
By doing so, it becomes apparent that their trip to your shop will yield purchase and not turn away empty-handed. It also builds a reputation for your business as a reliable go-to place and will earn support (and more income) from these loyal customers. You can maintain a list of items customers asked and you don't have, and evaluate its pricing strategy whether they are good for inclusion in your next trip to your supplier.
Below are ways to stock the right products for your sari-sari store: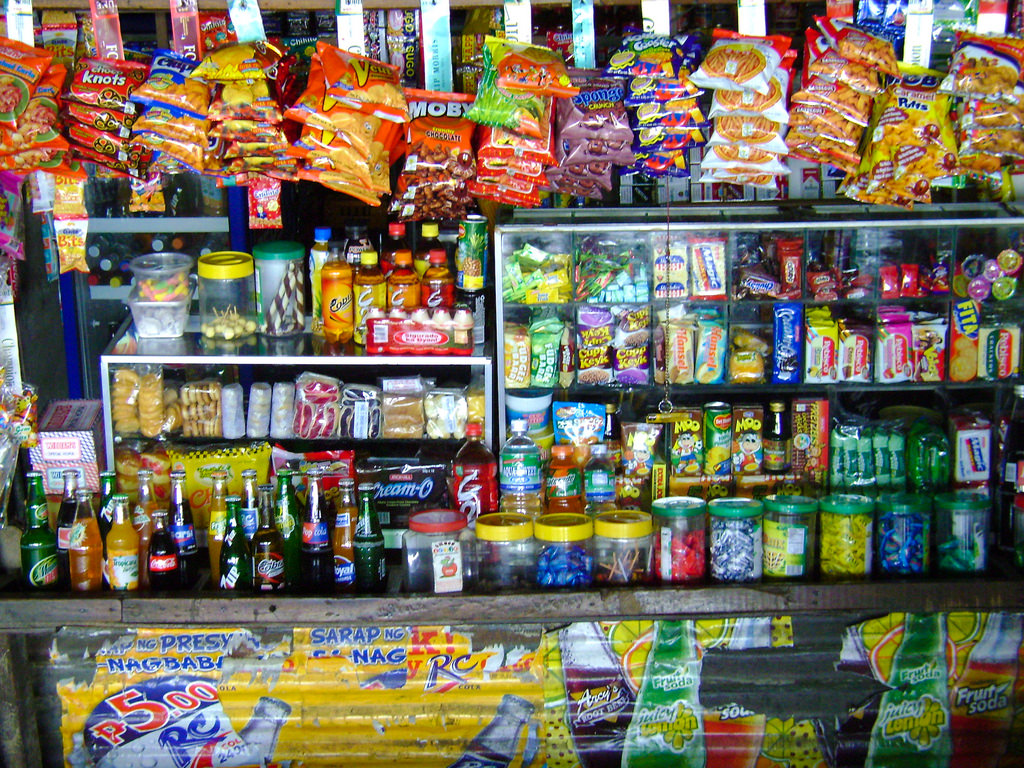 Identify customer segment based on your store's location
Your shop's content will depend on the type of customers living nearby. If your store is located near or within a subdivision, then you definitely should display domestic goods. The list includes detergent soap, cleaning agents, eggs, cooking oil, and rice. You can also be a reseller of gas stove refills, pet food, or firewood.
Suppose your sari-sari store is near a school or an industrial area populated by school-age children and factory workers. In that case, it should stock supplies of cheap snacks and school supplies for kids, and cigarettes, soft drinks, or prepaid mobile phone load for adult customers.
Sell seasonal items
Your shop may be too small to accommodate all goods sold all year round, but it can be a blessing in disguise, so you don't fill it out with items that are unsold for most of the year. Some products are in demand during certain seasons of the year. With the demand, how do you position your pricing strategy?
When it's the Christmas season, you can stock cards or gift items.
During Undas (All Saints Day), you need to have more supplies of candles, flowers, or matchsticks.
During school openings, you can fill the spaces with pencils, notebooks, and other school supplies.
The summer season calls for an ample supply of ice cream, ice candies, and other cold treats.
The rainy season calls for more supply of instant noodles, insect repellent, or champorado mix.
Does this pricing strategy — raise prices expecting the demand will prevail and goods eventually sold out — attract more profit or create friction from customers who feel they are being ripped off?
How to correctly price your sari-sari store merchandise?
How you price your store items determines both profitability and positioning against the competition. Steeper markups mean higher profits, but your business will also be subject to complaints if the label price is way above market rates.
Gauge your competition
Check how the competition manages their pricing strategy of products and maintain a competitive pricing structure. Are you willing to get thin margins if it means you'll attract new customers as a new kid on the block? That could be a difference-maker if you cannot undercut price but make it up with fresh stocks and superior customer service. Check your competition and emulate (and exceed) what they do good.
Generic brands for more affordable goods
If your customers are price conscious, consider supplying the generic version of a famous brand sold in your competitor's shop. Doing so allows you to price your goods lower than nearby shops. An example is the Bonus label under the SM brand, a more affordable version of a product popularized by well-known brands.
Value brands at higher prices
Considering stocking your shop with expensive goods may be counterintuitive, but some customers prefer brands known for higher reputation and better quality products. This approach is especially applicable to the level of quality of products the competition is selling. For example, if the type of flour Sari Sari Store A sold doesn't produce tasty bread, you can peddle a premium version that costs more but is of superior quality.
Establish partnership with a supplier
Many sari-sari stores procure their merchandise from supermarkets and grocery stores because they are convenient and allow small purchases. However, if you partner with a supplier or direct from the manufacturer, you bypass the middleman (in this case, the supermarkets) and get better price deals. You are establishing such a partnership that allows you to impose a more profitable markup without sacrificing the buying power of your customers.
Developing a pricing strategy for your product can be an uphill task. But with diligent research and a conservative pricing strategy, you'll be able to stretch the customer's budget and earn decent profits simultaneously.
Read more:
Help Pinoy Negosyo
If you find this article helpful, consider donating to Pinoy Negosyo to help maintain content and server expenses. Thank you!