Carinderias or local eateries are a standard fixture in a Filipino town. Usually found in public markets, transport hubs, and educational areas, it is not uncommon to find these eateries within residential areas. And why not? Everyone goes hungry, and a neighborhood carinderia is a convenient way to solve that hungry tummy. So the idea of setting up a carinderia business is compelling. No wonder it's also promoted internationally.
Origin of the word carinderia
But before we dive deeper into the topic, would you know why we call these eateries carinderia? According to an article published at Business Mirror, the name came from kari, the Tagalog term for curry, coined in the 1920s. Before that period, it was called karihan. This place serves the kare-kare dish and originated when Indians or sepoys married Filipinas and sold curry dishes by the streets of Taytay and Cainta.
The term stuck to roadside eateries as Chinese noodles shops became known as pansiteria, and bakeries selling pan (bread) are called panaderia.
A carinderia is also known as "turo-turo" as customers point at a specific item in the menu they wish to order, as a shopkeeper scoops it into a plate and places it on a tray towards the cashier payment. The procedure seems simple, but operating a carinderia or a food kiosk business requires a lot of hard work. Still, we're convinced you should open such a company with the following convincing reasons.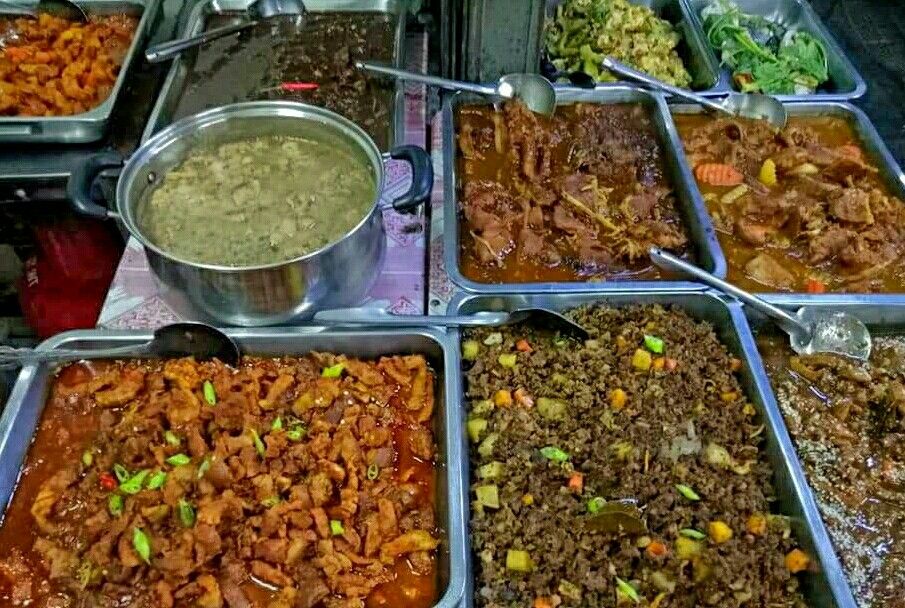 Carinderias are close to Filipino hearts.
At some point, a carinderia must have been part of a Filipino experience, whether as a student in the university, an employee of a nearby factory, a taxi driver having his midday break, or sharing great memories with friends on a weekend getaway. A visit would be a welcome experience with that unique ambiance: the aroma of roasted barbecue, the noise of a TV display, or a radio show. Its unassuming vibe creates a relaxed experience while providing nourishment, so a repeat visit is an easy decision to make.
Your business maintains a steady supply of patrons.
Everyone goes hungry and wants to eat, right? Carinderias serve a variety of dishes, with one or more you'd consider as favorite. The price point is cheaper than both restaurants and fast food outlets, so a carinderia is a natural draw with customers from all walks of life who want affordable, quality food served quickly.
Food is served cheaper than in restaurants.
A carinderia business can be likened to an extension of a dining table at home, and food requires simple ingredients to prepare. This setup suits well from a cost perspective and allows the eatery to charge less. Unlike restaurants with a more established presence but spend more on rent and aesthetics, a carinderia business can focus more on serving tasty dishes and less on aligning with brand guidelines as franchise restaurants are required to comply.
It doesn't require huge capital to get started.
A carinderia can budget a start-up capital of P15,000 for a week's worth of meat, veggies, rice alongside cutlery, cooking equipment, and a few tables and chairs set up on a vacant space accessible by the public.
It doesn't require ample space to operate.
A carinderia can start in as few as two or three tables, as food can also be sold 'to go.' This means the space required can be minimal, thus requiring heavy investment in real estate space. As it grows eventually, the business can expand its operating room to serve more customers and increase its income.

It helps create business for farmers and butchers.
The carinderia business not only benefits its owners and customers who are fed to satisfaction. The entrepreneurship also extends to opportunities for produce suppliers, which include vegetable farmers, small-scale hog raisers, rice dealers, fuel gas suppliers, and more.
Carinderia business also helps create jobs.
A carinderia is typically a family-run business, but more workers may be needed as it expands its operations. The eatery can hire waiters and waitresses, cooks, cashiers, dishwashers, and other utility personnel to support the business.
A carinderia can face challenges in maintaining its menu attractive to customers and keeping up with competition and rising commodity prices. But carinderia business can overcome such difficulties with persistence and business discipline. After all, the last time we checked, we still eat three times a day, and a carinderia is where we'll find the solution to our hunger problems.
Read more:
Help Pinoy Negosyo
If you find this article helpful, consider donating to Pinoy Negosyo to help maintain content and server expenses. Thank you!