Online shopping has been a growing retail business in the Philippines. Ranked 11th worldwide with 57 million Internet users, online businesses should see plenty of opportunities. User penetration is 44.1% in 2018 and is expected to hit 46.7% by 2023.
Philippine banks such as BPI, BDO and Metrobank are also working to make mobile banking a more seamless experience as they compete with other payment schemes for adoption and loyalty from the public.
Such payment facility helps Filipinos on the go to continue with their online shopping experience while dealing with daily realities in life such as long working hours or stuck in traffic during rush hours.
What is online shopping?
Before moving forward, let's define online shopping. Online shopping is the action or activity of buying goods or services over the Internet. This means any transaction that uses the Internet as medium can be considered online shopping: buying shoes or books, paying bills, booking hotel or air tickets, and so on.
In 2018, the Philippines has 37.75 million e-commerce users, an impressive number, and a figure that is expected to grow 45.77 million in 2022. While there established players in the online retail scene, there's no dominant player yet. In the payment system category, it is still up for grabs, as credit cards and apps like PayPal (combined 12%) trail trail cash on delivery and bank transfer as preferred means of payment.
The Philippines has several players smaller in scale than America's Amazon.com and China' Alibaba. They cater to different types of products like groceries, apparel, travel and electronic goods.
Top online shopping websites in the Philippines
Lazada Philippines
Arguably Lazada is the leading online shopping website in the country, and tenth overall in terms of visitor traffic. A big factor for its popularity is that it sells a wide variety of products from groceries to fashion and gadgets to household items. But what makes it even more popular is that it has flexible payment system that allows customers to pay using credit card and cash on delivery option. Lazada is also the de facto e-commerce website of hundreds of brands, making it an exclusive portal for buyers of these products.
Zalora Philippines
Zalora is the household name for online shopping of clothing and wardrobe in the Philippines. In addition to generic wearable brands, famous names like adidas, Samsonite, Levi's and Lacoste are also found in its virtual clothing racks and shelves. What's more, Zalora not only offers cash on deliver, it also offers free shipping for customers who buy online worth P1,000 and above.
OLX.ph
Formerly known as sulit.com.ph, OLX is the local version of eBay where people can sell stuff online without having to setup their online store. You can sell your home appliances and mobile phones, but OLX offers much more than just online shopping, as it also has jobs listings, properties like condo units for sale or rent, and services such as TV repair or airconditioning cleaning and maintenance services.
Shopee
Offering goods similar to what Lazada offers, the Singapore-headquartered Shopee is a growing e-commerce portal in the Philipppines. In addition to the usual e-commerce goods being sold in Lazada, extends the offer to buyers outside of the Philippines with its Overseas Collection section, and also uses virtual coins in its rewards program. Although the homepage user interface looks cluttered, keen-eyed visitors easily discover that it also provides everyday Filipino necessities such as cellphone loads and eVouchers.
Cebu Pacific
Cebu Pacific initiated the "Piso Fare" revolution that made travel fanatics rush to its website and make that coveted air fare deals. The success of such promotion was a validation that Filipinos have gone beyond the traditional travel agency route and trusted the Internet for convenience and freedom of choice.
Widget City
Gadget-savvy individuals could spend a great amount of time to visit Widget City's website not just because of the wide variety of electronic goods they sell — cameras, smartphones, laptops, game consoles and more — it also partnered with trusted brands and sells accessories for virtually all gadgets.
CDR-King
Maybe its name has been outdated by a generation of technology, CDR-King has long moved on from the old-fashioned compact disc and DVD burning business into selling electronics, accessories and peripherals. From video accessories and bluetooth speakers to smartwatches and cellphone cases, the sky is the limit for choices of affordable electronics goods.
Globe Online Shop
This is the e-commerce presence of Globe, one of the dominant telecom players in the Philippines. Here, you'll find relevant products such as smartphones, mobile packages, broadband plans, and other Globe-branded accessories.
Carousell
Basically a buy and sell platform for people both to sell useful items they don't need and buy products lower than marked as brand-new in shops and online shopping websites. Simply take a photo of your product and publish them in the website with details (price, description, etc) a la Instagram post using its mobile app and receive offers from interested people in its website or using its app.
Ticketnet
One of the pioneers in Philippine e-commerce scene, Ticketnet sells concert and show tickets, movie passes and sports events. Venues are still confined to Metro Manila areas so its scope of service is limited to only a certain area in the entire country.
Poundit
Another online tech shop in the Philippines similar to what Villman and Widget City, and offers plenty of payment options such as credit card, bank deposit and payment centers at select convenience stores. It offers free delivery service for purchases above P990.
HalloHallo Mall
Unlike other virtual malls that offer single-seller to consumer market platform, HalloHallo Mall serves as an online landlord serving its tenants (online merchants) and customers (website visitors) without the hassles of overcrowding and long lines at the cashier. Also features job listings, property market and dining guides and deals.
Metrodeal
Filipinos are attracted with deep discount sales and and won't mind going through the crowd to get good deals with their vouchers. Take that online via Metrodeal and it's a much more convenient and seamless way to indulge in shopping for less.
eBay Philippines
Not only an online shopping pioneer, eBay is an Internet pioneer that takes its existence just about time Netscape Navigator and Internet Explorer were conceived.
Many years and hundreds of competitors and wannabes later, eBay's presence in the Philippines barely changed its business model, allowing buyers and sellers to transact via credit card and PayPal payment options.
Carmudi
Like Edmunds and Carmax in the United States, Carmudi's classifieds business model caters to transactions among brand-new and second-hand automobile and vehicle owners in the Philippines. Simply browse over a selection of cars or use the search function for detailed requirements, and leave your number to reach out an owner for a potential car deal
Galleon.PH
Taking pride as a go-to place to buying items hard (or impossible) to find in the Philippines, Galleon.ph has a selling proposition that's unique to other online shopping platforms. It's there so we don't have to travel abroad to find items such as collectible art, vinyl music or rare medical books.
Villman Computers
A renowned brand for computers and electronic goods, Villman Computers has taken its trade online, serving people looking to buy or upgrade computer processors, mobile devices, hard disks and software.
Autodeal
Buying a new car or selling a used car? Here's the place to go. Autodeal also features an intuitive search facility that allows you to narrow down your search based on car make, body type or budget. A car comparison feature also is a nifty addition for a head-to-head matchup between two vehicles, a very handy tool to use especially if you are torn between two car models.
Deal Grocer
The local version of Groupon, Deal Grocer is a go-to place for those looking to save extra on just about anything. And by anything we mean hotel room or airline bookings, discounts in restaurants, spa and wellness centers and retail purchases.
Ecommerce sites that ceased to operate in the Philippines
Sites that might have given up to competition, or planning for a relaunch or experiencing temporary hiccups.
Goods.ph – site error message on homepage
If, for some reason, you are pressed for time for grocery but have the luxury to go online, Goods.ph is perfect for you. It covers a fine selection of items you usually find in a supermarket. But more than just a grocery shopping portal, it also has a neat collection of book titles, appliances and home accessories.
Wemall.com: E-commerce site in Thailand
From fashion accessories to electronic gadgets, Wemall.com hoped to offer a similar set of items you usually find in a shopping mall, made more convenient with your Internet-powered device. But unlike the queues and transport hassles of buying from your favorite mall, you fan avail of same-day delivery and flexible payment options.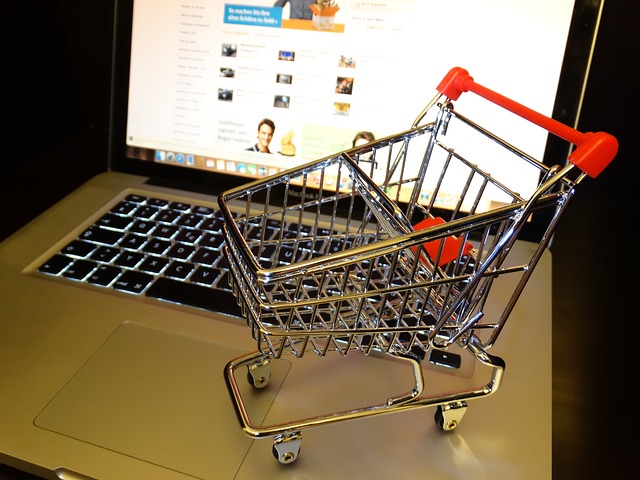 Online shopping and e-commerce sites in the Philippines
Shopping portals
Lazada
Shopee
Food delivery
Travel services
CheapFlights PH
Traveloka
Trivago
Finance and payment systems
Dragonpay.ph
GCash
PDAX
Smart Money
Flowers and gift delivery
Express Regalo
Flower Delivery PH
Flowers Express
Gifts2Pinas
Island Rose
Metromart
Subida Souvenirs
Health services
Nutrition Depot
Whey King Supplements
Deals and discounts
DealGrocer
MetroDeal
TCAT
Freelance / Service providers
199Jobs
Gawin PH
Raket
Furnishings
Furniture Manila
Urban Concepts
Medicines
Med Express Drugstore
Mercury Drug Gamot Padala
Mura Med
Properties
Rent.ph
ZipMatch
Rental services
Gown for Rent
Pets
Advantages and disadvantages of shopping online
The reasons are obvious but if you want to know a longer list of advantages and disadvantages of online shopping:
Pros of Shopping Online
Saves you time and effort. It saves you time and effort buying products from supermarkets, drugstores, wine shops and other stores.
Convenience. It provides convenience shopping from anywhere, saving you from queuing at the cashier, sparing you the trouble when the weather is bad.
Discounts and special offers. It offers discounts and lower prices, as shops save from labor and space costs.
More product details. It often provide more details about a product or service. Products have complete details displayed in web pages.
Easier to compare and evaluate products and brands. Plus gain feedback through testimonies and compare prices with other shops.
Easier to find consumer reviews. It is easier to find what other customers say about the products.
No more sales pressure. It does not expose compulsive buyers to persuasive and aggressive sales people.
Cons of Shopping Online
You cannot feel the product. You cannot check its freshness (perishable goods), test it yourselves (clothes and shoes).
You cannot ask someone. Unless a chatbot or a customer service phone is accessible, your outstanding questions are often left unanswered.
Shipping delays. It is possible that delivery is delayed especially during peak seasons or bad weather.
Risk of fraud. Your credit card details could be compromised and become victim of unauthorized use.
Uncertainty of product. Is the product durable and last long, has locally available spare parts, or professional repair available.
Complicated returns or refund procedure. While refunds and returns are clearly mentioned in the website, they might come with a long list of exceptions and disclaimers.
Online shopping 🛒 #sukkhi #shop #shopping #shoppingonline #online #technology #digital #internet #techno #ebay #match #search #media @ebayindia #funny #jokes #indian #india #haha #lol #puns #meme #memes #memesdaily #wednesday #innovation #crazy #follow #me #beauty #girl 💋 pic.twitter.com/UQ85IxacWs

— Sukkhi 🖤 (@SarcasticSukkhi) April 4, 2018
How should I get started?
To get started in shopping online, have your mind set into what things you need to buy but find it difficult or inconvenient to do it in a traditional way. For example, if you can save time buying a cellphone load online instead of going to your friendly sari-sari store, then that could be your motivation in trying out online shopping.
Cash, the primary medium we use in offline purchases does not apply all the time when shopping online, although supported payment centers like convenience stores and remittance centers as well as cash on delivery options accept cash payments. Among the most common methods people use to transact online are the following:
Credit card. MasterCard, Visa, American Express, JCB
PayPal Debit
Smart Money
GCash
PayMaya
DragonPay
7-Connect
Coins.ph
How to shop safely online

The list of websites you can shop online that we listed above are not direct endorsement that you should patronize them. To ensure security of your transaction from misuse and potential fraud, please spend time to check the following tips.
1. Check if the website is legit
Check the website address if it is correctly spelt and not the letter "o" is not replaced with a "0" to look like amaz0n.com instead of amazon.com.
2. Shop only at secure e-commerce sites
In this context we meant the website is operating under a secure connection. Check the browser address and make sure you find HTTPS / closed lock symbol instead of HTTP / open lock symbol.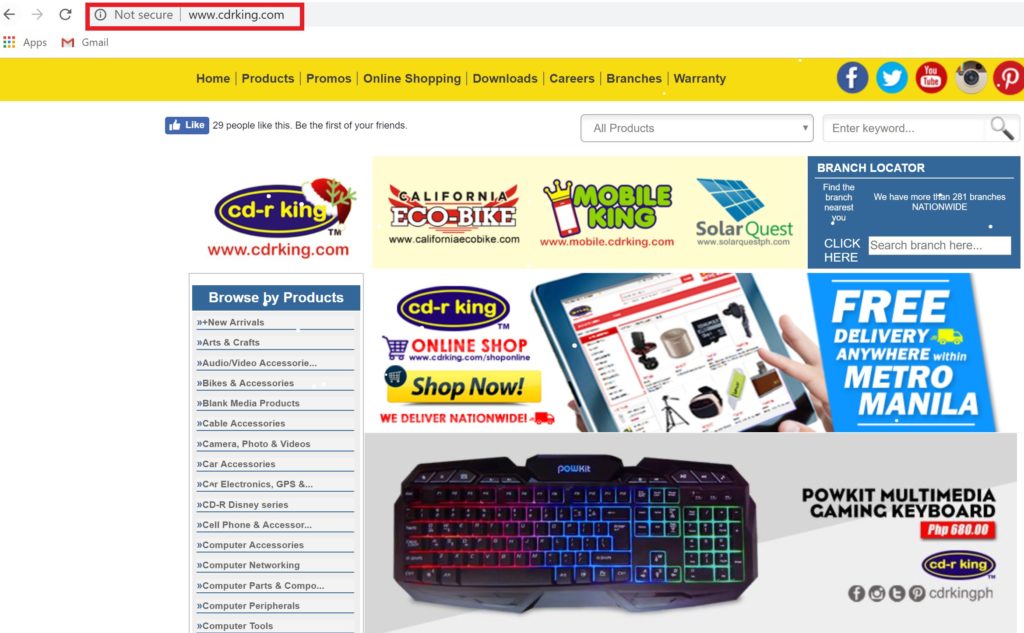 Some websites may be secure but load external add-ons (affiliates, ad networks or plugins) that are hosted in HTTP environment so browsers like Google Chrome play it safe by labeling them as Not Secure.
3. Be aware of common e-commerce scams
The Internet is littered with scams of different shapes and sizes. Scammers have long moved on from the infamous Nigerian prince bequeathing his wealth, and they're ready to pounce on anyone online.
If you find an "offer" while browsing your Facebook timeline (say Piso fare on Cebu Pacific) or reading your emails (say massive Zalora sale), you can simply go to their official sites and check them out yourself to be sure these offers are true. Beware of clicking these suspicious links as they could link to malware and steal information (contacts, credit card information, passwords) stored in your computer or mobile device.
4. No online shopping on public wifi locations
You may save your mobile data by using public Wifi hotspots, but be sure not to engage in online transactions (tasks that require you to login) as such hotspot you are connecting may be unsecured and your login details may be visible to unauthorized third-party users.
The last thing you'd like to happen is receive notifications that your credit card or PayPal account has been used to purchase items you did not buy.
5. Provide only details that is necessary for the purchase.
Filling out forms when buying products online can be a tedious task, but they serve a purpose: e-commerce websites try to ensure that delivery of goods goes to the correct address, the transaction uses legitimate payment method, and such.
However, if you notice that some fields you think are unnecessary in the transaction is being marked as mandatory to complete the transaction, like your TIN, birthday or SSS number, be wary as they could be used to verify your details like retrieving your lost email password.
If in doubt, ask the reason for requiring you to fill out these fields before making the purchase.
6. Update your mobile apps to the latest version
If you are using the shopping portal's mobile apps from iOS or Android, make sure you are using the latest version (or check if it's the latest update) before making a purchase online. Apps may encounter bugs that need to be fixed, and a software update should address the issue.
This is the same reason why your computer's operating systems are updated regularly: to fix bugs in product or add new security layers to protect users.
7. Enable security lock on your phone
A big percentage of online shopping happens on mobile platforms. And with the mobile nature of such devices, they can easily get lost, misplaced or stolen. Phones carry more value (as wallet, camera, music and video player, among others) than their original purpose so they require additional protection.
Activate phone locking when phone is idle and unlock using passcodes, face ID or thumbprint. Failure to do so makes your device a potential shopping tool for thieves who may easily shop using your credit card, PayPal or GCash accounts.

Do you know any other online store not listed here? Got more security tips? Let us know through the comments below.