At some point in your life, you may be asked to submit an NBI clearance. For example, you are joining a new company, applying for a job or a tourist visa, loans, gun license application, and more.
What is NBI Clearance and what is it for?
As its name implies, an NBI clearance is a clearance from the National Bureau of Investigation certifying that an applicant has no prior police record and has not been involved in illegal activities nor charged for a crime.
How to Apply for NBI Clearance Online
Overview
In the past, getting an NBI Clearance requires you to go to one of its offices. The good thing about it is that you can apply for a clearance as a walk-in applicant. However, this policy has changed. The NBI has implemented a "no appointment, no entry" policy for NBI clearance applications and registrations.
Therefore an appointment — online appointment to be exact — is now required. While this is inconvenient especially those who need this document immediately for transactions such as clearance for a job abroad or last step to confirm the move to a new company, this also ensures that NBI offices are not clogged with applicants and encourage proliferation of fixers to expedite applications. So an online appointment could benefit more people, and those who expect to apply for this clearance must anticipate and make prior arrangements.
Step 1: Visit the NBI Website
Visit the National Bureau of Investigation's website intended for this purpose at https://clearance.nbi.gov.ph.
Register for new application
On the right side of the page, you'll find a form with the question "Do you have an old NBI clearance issued from 2014 to present?"
If you have applied and had been issued an NBI clearance between 2014 and later, you can simply register a new application for NBI clearance and select "Yes". This saves you time from entering previously saved information such as gender and middle name. Check your old NBI clearance to retrieve the NBI ID number, which is highlighted below.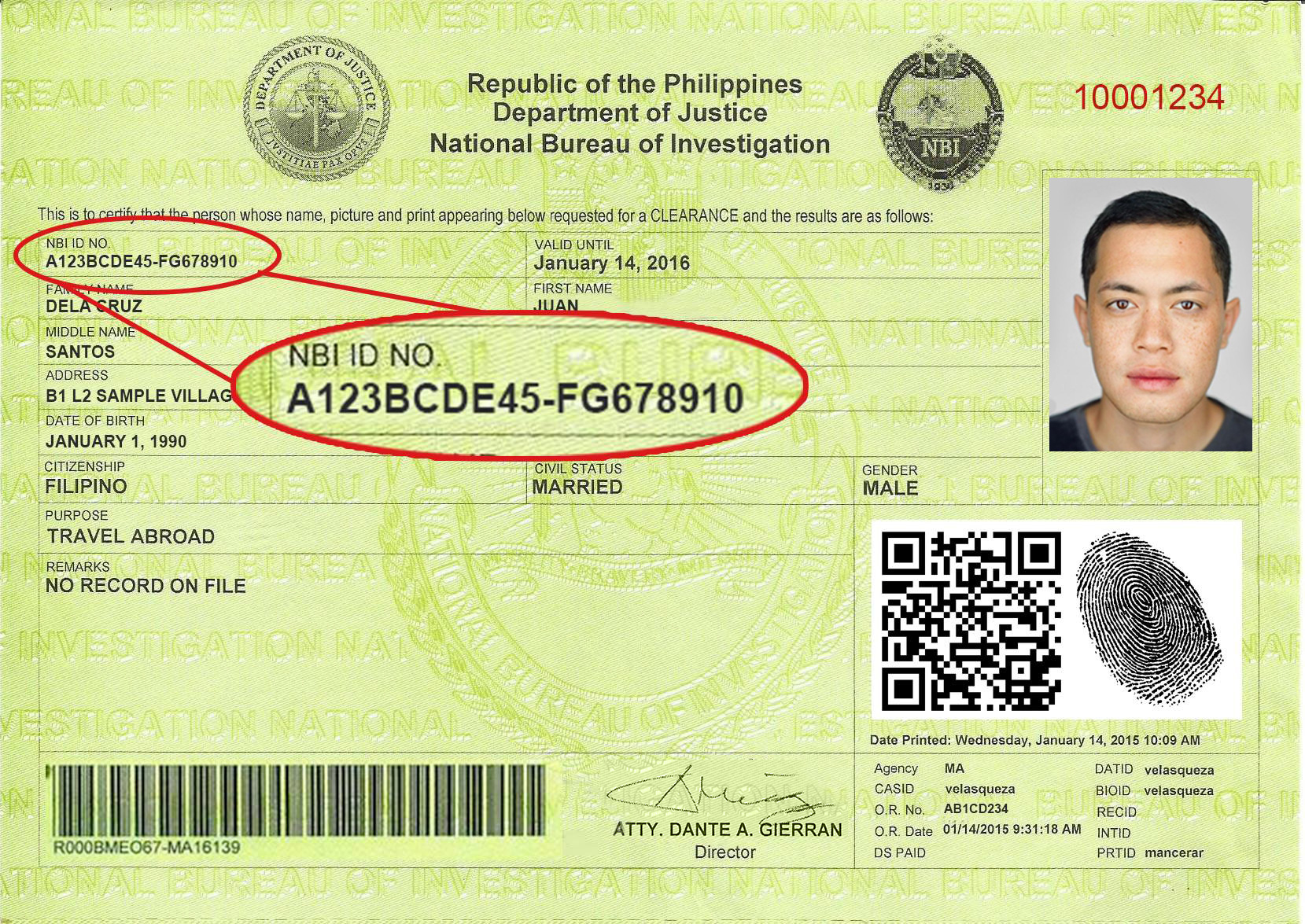 If you have not applied for NBI clearance since 2014, register a new account by checking the "No" option.
Fill up the form carefully and accurately.
For new account registration, remember your chosen password for future logins. Also, make sure you have access to the phone whose number you entered. It will be used to verify your entry. Click the PROCEED/SIGN UP button.
Retrieve one-time-password (OTP)
Before you can continue with the registration, the system will send a one-time password to your mobile account. Enter this number to proceed with your NBI clearance application.
Tick the box next to "I accept terms of service."
Read the Terms of Service statement which contains terms to which as a user, you need to agree. Clicking the Agree button signifies that you have agreed to these terms which is a commonly accepted standard on the web.
Click the Sign Up button. Review the information on a modal box that shows some reminders. Click the Yes button if you agree with the reminders and proceed to the next step.
Fill out the NBI Clearance Online Application Form. Review your entry for accuracy. In case you need to edit some fields, click the Edit Information button. Once done, click the Save Information button.
Click the Apply for Clearance button. On the Confirmation box, enter the identification card you will present for your NBI clearance application. Take note that even though only one ID is requested in this step, you are required to bring two valid IDs on your scheduled appointment.
Click the I Agree button.
Step 2: Set your NBI Clearance appointment at an NBI office
Once you complete your registration, your personal information provided online will then be processed. However, you need to be present at an NBI office of your choice. This can only be accomplished with a confirmed appointment which will also be done online.
Choose the NBI office most convenient for you. A list is available from the drop-down menu.
A calendar will display the available slots for your chosen branch in blue boxes. Dates in red boxes indicate the branch is closed.
Select your preferred time (AM or PM) and date and confirm your entry.

Step 3: Pay the NBI Clearance fee
The cost of an NBI Clearance is P155. This covers P130 for the clearance and P25 for the system fee to use the e-payment platform. The total amount is for all types of purposes of NBI clearance — employment, travel and other legal purposes.
There are many ways you can settle NBI Clearance fee:
Bank – Cash deposit or online banking at BDO, BPI, Metrobank, PNB, Security Bank, UnionBank, or any partner bank
Bayad Center – Cash payment at any Bayad Center outlet or its partners nationwide
MultiPay – Payment via MultiPay wallet or at any Bayad Center-MultiPay outlet
ECPay – Payment at any ECPay outlet such as RD Pawnshop and San Mig Food Avenue
7-Eleven – Payment using the CLiQQ kiosk at a 7-Eleven branch
Note: Payment channel may charge a service fee for processing your NBI Clearance fee payment.
How to pay for NBI Clearance fee:
Choose your preferred payment option on the right side of the Appointment page.
The Payment box will show a reference number and the total amount to be paid. Write down the reference number and click the Accept button.
Go to the nearest branch of the payment option you selected.
Pay for the NBI Clearance fee using your reference number.
To check if your payment went through, sign in to your NBI Clearance online account and click the Transactions button on the left menu. The status should update to "Paid" instead of "Pending."
Step 4: Processing your NBI Clearance application on appointment day
Go to the NBI branch you selected on your appointment schedule. Bring two valid IDs.
Proceed to the Biometric and Image Capture area. Present your reference number as provided during registration.
Have your photo, fingerprint, and digital signature taken.
NBI Clearance staff will show you your information from a computer screen. Review all the details thoroughly, making sure everything is correct.
Wait for your NBI Clearance to be printed and issued to you.
If your name shares with someone with a criminal record in NBI's database (otherwise known as a "hit"), you will be notified by NBI Clearance staff to come back on a certain date.
If you don't have time to claim your clearance at the NBI branch, you may choose to have your clearance delivered.
Go to the NBI Clearance Online Services site.
Find the NBI Clearance eServices section.
Click the "With Hit? NBI Delivery Service" box.
Enter your reference number and birth date.
Click the Submit button.
Frequently Asked Questions
What are the valid IDs needed to apply for an NBI clearance?
Here are some valid IDs you can present at the NBI branch:
Philippine passport
Postal ID
Voter's ID
Driver's license
Senior citizen's ID
PRC license
SSS/GSIS/UMID ID
PhilHealth ID
School ID
Tax identification number (TIN) ID
Alien certificate of registration
I made my payment only, but it is not shown in my online application. Can I still proceed?
It takes a little bit more time for your payment to be reflected in the NBI website sometimes, though you can still proceed with your NBI clearance application. Just present your payment slip or receipt to the officer in charge as well as your reference number.
Is it okay to get an NBI clearance as a walk-in applicant, without online registration?
Some NBI offices have a computer station where you can process your online application as a walk-in applicant.
Do I have to print and bring my application form?
Not necessarily. You can simply present your reference number and payment receipt. NBI already has a digital copy of your application form.
How come it takes a few days before I can claim my NBI clearance?
NBI clearances are usually released on the same day as your appearance. Names are scanned against a database, and if your name is matched with someone else (called a namesake), then your name will be verified further against a criminal history database to ensure that you don't have a pending case or criminal record.
This is called a "HIT." In that case, the NBI will tell you to come back after 8 working days to claim your NBI clearance.