While education is key to success, many of the world's most successful people ironically dropped out of school and translated their passion towards accomplishment. Bill Gates, Steve Jobs, Mark Zuckerberg, James Cameron, Tiger Woods, Lady Gaga, and so on.
Self-made billionaire Edgar 'Injap' Sia II, the founder of Mang Inasal had similar route to success. He was born in Iloilo and pursued architecture at the University of San Agustin. However, he dropped out before finishing his course to pursue a passion closer to heart since he was a young kid.
As a young boy, Injap was exposed to hard work, helping in the family's grocery business after school by doing assorted jobs such as manual labor of stacking grocery products, repacking goods, doing the inventory and manning the cash register.
"While many of my friends were playing or riding their bikes, I would be moving inventory and counting soap," he recalls.
At age 20, Sia already managed multiple businesses: a photo developing franchise, a 58-room three-star hotel and a laundry shop in Iloilo City.
Borrowing P2.4 million seed money from his father to start his barbecue business, Injap, set up shop at a 250 square meter unused car park next to Robinson's Place Iloilo in 2003 after getting an attractive offer. At the time, he opted for fast food barbecue business because he noticed that no one else was doing it. He named his business "Mang Inasal," Hiligaynon for "Mister Barbecue."
Coming from a family with Chinese and Japanese ancestry — "Injap" is a combination of Intsik ("Chinese") and Japanese — his father Edgar Sr almost convinced his son to rename the business to "Mng Inasl" reducing its character count to eight letters "because Jollibee and Chow King have eight letters and eight is lucky in feng shui."
Unconvinced that the ten letters that compose "Mang Inasal" is not bad luck, citing that "Banco de Oro" was doing well in business, Injap managed to persuade his father to lend him capital money.
It looked like an ominous sign at the beginning when the store's grill exhaust malfunctioned. So instead of serving chicken barbecue, Sia and his employees fried the chicken. But instead of losing out customers, the public accepted the sudden change in menu. So what was thought as ominous sign was an epiphany of grander things to come. In just eight months, Sia repaid the loan he owed from his father.
After successfully operating the first "Mang Inasal" branch in Iloilo City, more branch openings followed as the public warmly received its barbecue menu.
Sia's entrepreneurial spirit has always shown even before he dropped out of university to pursue "Mang Inasal." Gifted with persuasive talents, Sia managed to convince parents of three of his classmates to join him to set up a small hotel named "People's Hotel." He also established a photo processing shop where he personally worked inside the dark room.
While his business continued to grow, Injap Sia did not try to keep it his own. Long before he sold Mang Inasal to Jollibee, he incorporated the business and granted 30 per cent stake to his brother Ferdinand and 15 per cent to his sister Mariz.
"Our parents taught us to love each other," he says.
In 2010, Jollibee Foods Corp. acquired 70 per cent of Mang Inasal for P3 billion, adding to JFC's portfolio of food companies such as Chowking, Red Ribbon, Greenwich and Delifrance. The cash windfall he received was used to invest across healthcare and banking sectors.
"After I sold the first 70 percent of Mang Inasal, I invested in a few industries where I want to learn. Like PBCom, I have been in its board for 2 1/2 years. I'm curious of what happens in the banking system. I am also in the board of Maxicare, one of the largest HMOs. In fast-food, I work with the group of Jollibee. Those are the three different worlds where I want to learn," he says.
The relationship between Sia and Jollibee's Tony Tan Caktiong wasn't just about Mang Inasal. The duo saw the growth potential for property business sector in the Philippines so in 2012 they established DoubleDragon Properties Corp. — Sia and Caktiong were both born in the year of the dragon 24 years apart — which aims to gather one million square meters of leasable space and develop 100 CityMalls branches by 2020.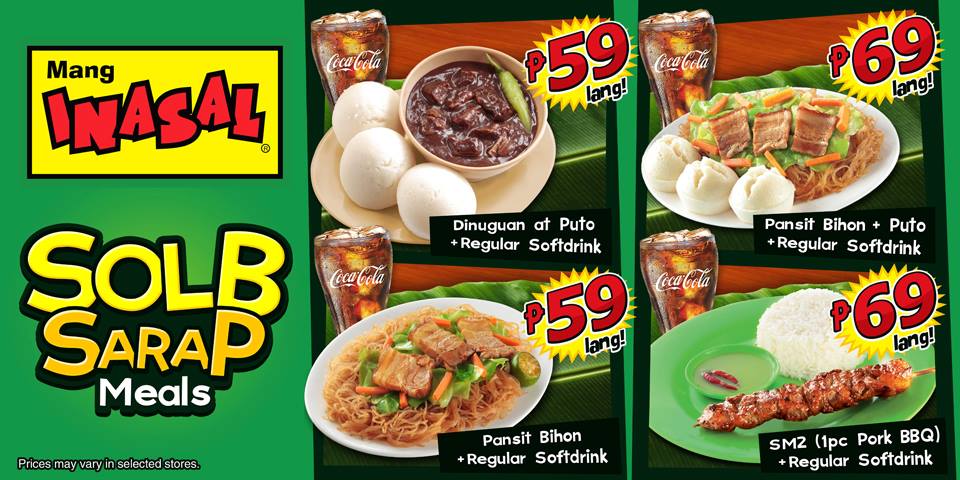 Always looking after those who were with him from the start — Sia made sure they're part of his success story. For instance, his personal driver Judy Yadao, used to work for a car rental company and often pick up Sia from the airport and took him around Metro Manila looking for locations to set up Mang Inasal branches.
In 2016, Injap sold his remaining 30 per cent of stake of Mang Inasal to JFC for P2 billion.
At 33, Injap became a billionaire and at 39, he ranked 17th richest — and the youngest — in the Forbes Magazine's list of 50 richest Filipinos whose net worth is around P58 billion.
He adds, "Business is a total package of imagination, execution and the ability to repel distraction."
Despite being on a lofty position with billions under his bank account, Injap Sia continues to live a simple life. He maintains only four pairs of shoes, four suits, and still counts Mang Inasal as his favorite comfort.
"I eat it at least twice a month. I also like home-cooked food like adobo and grilled bangus," Injap Sia said.
Injap Sia's success has a deeper meaning in him. The well-mannered young billionaire readily acknowledged God's hand in the success of his businesses, in his role as a channel of uplifting life of others by establishing businesses that generate long-term livelihood for thousands of Filipinos.
"All the time, everything I do, major or minor, is aligned to creating responsible businesses that will last very long," Injap concludes.
In his recently-released book Life Principles, Sia shares readers an insight of valuable lessons he learned during his entrepreneurial journey, and allowed him to dream big even while keeping himself grounded. His advice: Believe in yourself, go after your dreams, and even if you suffer from rejection, hold fast and be tenacious.
Photo credit: Kimberly dela Cruz / FT