Jollibee is a renowned Filipino brand that is beginning to get wider acceptance in the global food market, thanks mainly to its exposure within its international branches. It's not just a typical fast food outlet, Jollibee is also part of the Filipino lifestyle as a go-to place for families and friends. Therefore, as a Jollibee franchise holder, you hold a number of business advantages.
So while it is not cheap to be part of the Jollibee franchising business, there are certain advantages an investor can leverage from. Let us explore the advantages of being a Jollibee franchisee.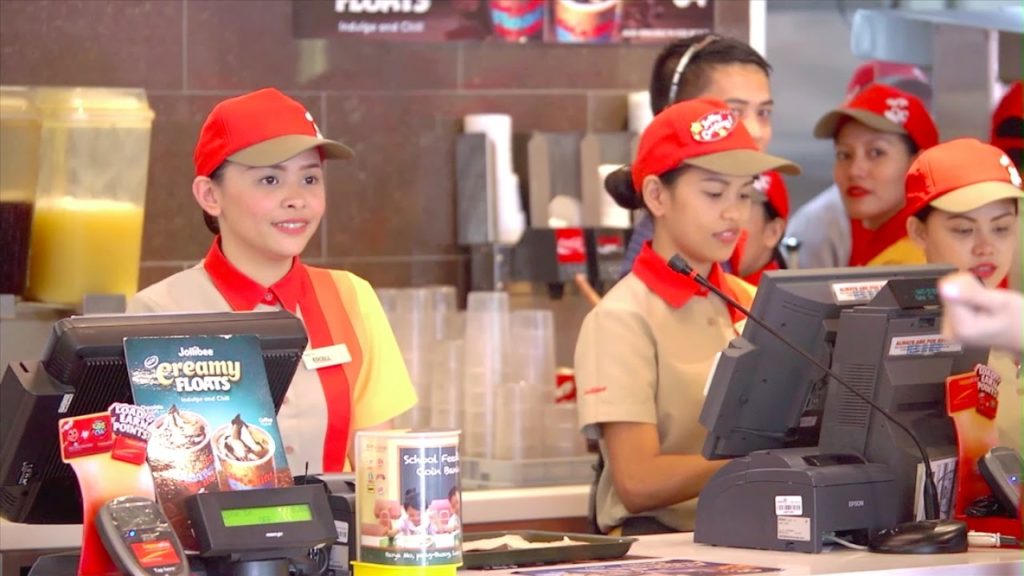 1. Jollibee is among the top employers in the Philippines
Being an admired employer in the Philippines means something. According to published report at Far Eastern Economic Review and The Wall Street Journal, the Jollibee Group is the only Philippine company that made it among the top 20 best employers list in Asia in a survey by Hewitt Associates in 2000. It is also commended as number one in Overall Leadership among top ten Philippine companies.
In addition, Jollibee is also named the "Global Growth Company" by the World Economic Forum and the most admired corporation in the Philippines by Asian Wall Street Journal Review 200, formerly Far Eastern Economic Review 200, for seven consecutive years (1998 to 2004).
If that's not enough..
Recognitions Conferred by Outside Institutions
Ranked 6th in the 2008 Finance Asia Poll for Best Managed Company and Best Corporate Governance.
Selected in 2006 as the Most Admired Company in the Philippine through a survey conducted by the Asian Wall Street Journal. This was the 8th consecutive year that JFC was chosen for that prestigious recognition.
Selected in 2005 as "The Best Consumer Goods Company in Asia" by Euromoney, a financial publication in London UK based on a survey of investment analysts and researchers in the region – on strength of its management, growth potential and quality of earnings.
Zenith Foods Corporation, the commissary plant of Jollibee, was adjudged the National winner of Meat Processing Plant AAA category in the search for Best Meat Establishment of the National Meat Inspection Service.
In 2011, Jollibee voted as Trusted Brands in the Family Restaurant Category for the second year in a row.In 2012,
Travel + Leisure magazine names Jollibee as one of the world's best fast food chains
Other Recognitions:
"The Best Company in the Philippines" (for 7 consecutive years including the latest year of 2004) based on a survey conducted by the Asian Wall Street Journal 200 (formerly the Review 200)
"Overall Best-Managed Company in Asia" in 2004 in the medium market capitalization category based on a survey conducted by the Asia Money.
In 2004, JFC's Chairman and CEO was named the Ernst and Young's 2004 World Entrepreneur of the Year.
In 2010, Jollibee's CFO Ysmael Baysa named as Finex's CFO of the Year
In 2012, Jollibee was one of two Filipino companies cited in the Asean Business Awards as the "Most Admired Asean Enterprise" (Innovation category)
2. Jollibee is a well-loved brand
Not only is Jollibee recognized as a well-oiled brand poised for further growth overseas, the ultimate test of its success is how consumers have embraced and loved Jollibee. It's focus on family experience — warm interiors, polite staff and adorable mascots — extends well beyond the taste of its menu.
Notwithstanding, it has been adopted by patrons other than Filipino expats abroad. Recently, it's chicken joy offering considered the best fried chicken in Hong Kong in a random taste test.
So for a franchisee, consumer market is not a problem once a fast food outlet is set up.
3. Jollibee is not just a fried chicken company
It's sought after chicken joy menu may be the most popular product, but Jollibee has been innovating its products within the fast food industry. Franchisees are not only limited into investing on its Chicken and Hamburger chain, the typical Jollibee fast food restaurant. Other market segments include Pizza-Pasta fast food segment (Greenwich Pizza) and Oriental food chain (Chowking). Its other acquisitions in the Philippine master franchise operations include Red Ribbon, Mang Inasal and Burger King.
Jollibee has also been bullish in its international operations as it acquired stake in China's Yonghe King and San Ping Wang. It also entered into joint venture partnership with Vietnam's Highlands Coffee and Pho24.
Franchisees have plenty of opportunities to branch out into other business ventures. With Jollibee's support and market research, it becomes more viable to determine which opportunity to grab.