The growing demand for clean, safe drinking water in the Philippines has created opportunities for businesses that sell purified water. While conforming to the national sanitation standards, these water purifying stations often provide cheaper sources of clean, potable water than traditional sources such as bottled mineral water bought at supermarkets. Also, as the cost of household water filters continue to soar, domestic users are likely to avail of sources coming from neighborhood water refilling stations.
A combination of high urban population, demand for safer potable water and accessibility to it is one crucial reason water refilling station business is a proliferating business that generate steady stream of income from customers of this life-giving commodity.
Deciding on a water refilling station business comes with factors such as demand for safe drinking water, presence of established businesses, opportunity for growth and feasibility of a business establishment considering all other factors such as operating shop location including rental costs and utility expenses, customer foot traffic, availability of reliable equipment, water supply, employee hiring and training.
Like many other businesses, franchise from an established business model or building up one's business from scratch are two options an aspiring water dispenser business owner can pursue. To those who are not familiar what are the pros and cons of franchising and non-franchising business model, read here.
At present, there are more than 3,000 water refilling stations nationwide. They sell purified water of comparable quality with bottled water sold at retail stores but at a more affordable price. In Metro Manila, most of the water refilling stations are connected to the pipes of two concessionaires: Maynilad Water Company or Manila Water Company for their source of raw water while in other areas other water sources may be available such as local water utility supplier or deep well.
Water refilling stations typically produce 3,000 to 12,000 liters of purified water daily. In the past, consumers bring containers to a station but with the advent of portable containers such as 5-gallon containers that offer convenience to buyers. Some shops offer delivery service, which many customers prefer but obviously cost more (vehicle, driver, fuel, etc).
How to start your own water refilling station:
1. Create a business plan.
This is standard across all businesses because it helps an owner understand the viability of the business.
How much investment should I place to acquire equipment, secure permits and licenses, hire manpower, shop lease, utility costs and promote the business?
Do I have enough capital to start the business? If not, will obtaining loans from banks be sustainable towards a profitable business?
What kind of service should I provide? Alkaline water, purified water, mineral water?
Is there opportunity to enter into the business considering existing players?
When will I start to see profits after breaking even on my investment?
What are possible problems my business might encounter? Equipment breakdown, lack of water supply, etc?
These are among the questions that must be addressed before proceeding to next steps.
2. Find a suitable shop location
It is important to check the location for a water refilling business that's not only prominent to your target audience, but also suitable to the type of business (clean, unadulterated environment) which means away from locations unpleasant for such business — garbage dump, etc.
Ideally it is close to apartment buildings, subdivisions, schools and business districts as your target customers are likely going to come from these places.
3. Find a suitable equipment supplier
If it's a franchise agreement, the supplier will provide all necessary equipment. But if from a separate supplier, it is imporant to ensure you have the right equipment, measured to fit your desired location. Your supplier should be able to provide a layout plan as well as advise on site on issues such as access to water utility supply, electrical supply, and right distribution area where workers can interact with customers or arrange with delivery staff.
Also check supplier's partnership with manufacturer and whether spare parts and technicians are on hand to troubleshoot when problems arise.
4. Register your water distribution business
Having the necessary license and permit ensures that your business is legal and authorized to distribute drinking water to the public for a fee. Sole proprietors can go to DTI to secure a certificate of registration of business name, local municipal office for mayor's business permit. Municipal or city hall office will inspect source of water as well as analysis for potability using physical, chemical and bacteriological tests. Building layout and electrical plans should also be signed by authorized signatories like sanitary engineers or inspectors. Apply for BIR form 0506 to authorize printing of receipts and pay necessary fees.
5. Buy additional equipment
In addition to the standard water refilling station equipment, complementary supplies such as water containers, gallons, sanitizer soap, heat gun, and others must also be ready before operation of your business commences.
6. Hire staff and train them
This should be done long enough so they will undergo training on operating the equipment, familiarizing the daily tasks and jobs of fellow workers.
7. Promote business
Approach businesses and offer bulk discounts for high consumption sectors like carinderias and restaurants or offices. Go the extra mile like pickup and delivery for free for bulk deliveries, or extended hours of operation. Anticipate periods where demand for water is higher — summer season, town fiestas, etc. and prepare adequate amount of delivery.
Water purifying steps
Customers go to water refilling stations for a reason: clean water that's safe for drinking. To achieve this high quality drinking water, stations are equipped with high-performance machines that are involved in the following:

Multi-media sediment filter – removes sediments such as rust, sand and particles that are invisible to the naked eye; employs a total of 5 filters.
Ion exchanger – replaces hard minerals with soft minerals.
Activated carbon filter – removes all organic chemicals, herbicide, pesticide, offensive odor and bad taste.
Reverse osmosis membrane – the heart of the system and the most expensive unit; removes inorganic minerals, bacteria and viruses while retaining its oxygen content. Since the filter size is very small at less than 0.05 micrometre, the product water could have a total dissolved solids (TDS) of less than 10 ppm. The filtration process rejects about 50 percent of raw water volume.
Post-carbon filter – improves the taste of water.
Ultraviolet lamp – ensures that the water is free from disease-causing micro-organisms.
Ozone generator – inhibits the growth of bacteria in the product tank and prolongs the shelf life of water.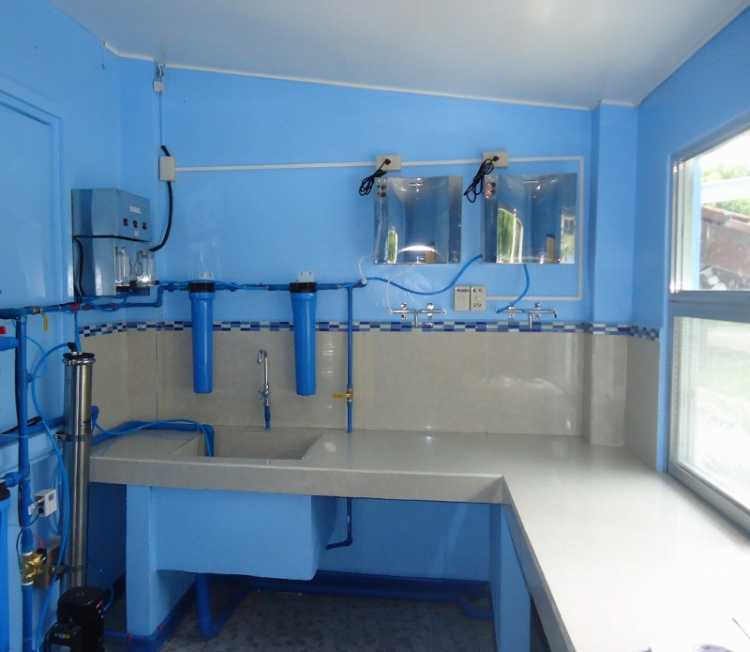 To further monitor the quality of water supplied by retailers/water purifying stations, agencies in both government and private entities involved in granting of licenses, monitoring and enforcing the standards are the following:
The Department of Health (DOH). DOH is the main agency responsible for protecting the health of the people. The Sanitation Code of the Philippines mandates DOH in protecting drinking water quality. Consequently, DOH issues implementing rules and regulations prescribing sanitary standards for water supply systems, including water refilling stations.
The Center for Health Development (CHD) is the regional branch of DOH. Its main function is to provide technical assistance to local government units and to monitor DOH programme implementation which includes water quality and sanitation standards. For water refilling stations, CHD is mandated to issue initial and operational permits.
The Local Government Units (LGUs) are mandated by Presidential Decree (PD 856) to issue sanitary permit, sanitary clearance, health certificates, certificate of potability, drinking water site clearance and closure order (if necessary) and to conduct sanitary inspection of WRS.
The Water Quality Association of the Philippines Inc. (WQAP) is an organization of private firms who are engaged in the manufacture, sale, and distribution of water refilling station equipment and supplies, as well as water treatment and purification equipment and technology for household, institutional, commercial and industrial applications. About 85 percent of its 250 members operates water refilling stations.
Association of Water Refilling Entrepreneurs (AWARE) concentrates on resolving business management issues of its members.
Quality control
Source water and product water are subject to regular monitoring by the local health office. The national standards for drinking water contains 54 parameters that must be complied with. Only DOH-accredited laboratories are allowed to conduct water testing and analysis. The frequency of monitoring is as follows:
Bacteriological quality – at least monthly
Physical quality – at least every six (6) months
Chemical quality – at least every six (6) months
Biological quality – at least once a year
Monitoring of radioactive contaminants shall be done only if there is significant input of radiation from the surrounding environment.
Space requirements
Water refilling stations do not require large operating space, thereby saving costs on space rental. For as small as 20 to 25 square meters, a shop consisting of the following sections: refilling and selling room, enclosed water purification room, container washing and sanitizing room, storage room for empty and refilled containers, source water storage facility, toilet and an office. To operate the water store, about five employees are needed.
Manpower requirements
A shop can operate efficiently with the following staff:
Manager – oversees store operations — from timely accommodation of customers to ensuring the purification process adheres to strict standards — at least four hours a day.
Accountant / Bookkeeper – ensures proper financial standing of the business, from procuring of equipment and accessories, settling taxes and daily sales records.
Front-liners / Store assistants – they receive orders from customers, refills the containers and handles payment and delivery tasks. The number depends on the bulk of work on regular basis.
Technical personnel – maintains the water purifying machines and ensures they're in tip-top shape.
Delivery man – if the business is engaged in delivery (for a fee or for free) he transports products to homes or businesses, in collaboration with store manager.
Starting the business
Look for best deal from suppliers of water refilling equipment. Be careful not to be drawn by cheap equipment price; check the after-sales service such as installation, warranty, service charges, parts replacement, staff training and availability of technicians in case problems occur. Put due diligence in checking multiple dealers and compare their offers. Ensure that photos found in brochures match with the tangible product.
Secure necessary permits and pay fees as mandated by your local business office. You may also need to post vacancy for manpower purposes. Past experience in the same business is preferred but operation should be straightforward even to newcomers.
Look for the best possible locations to place the refilling station. Certain laws require businesses to set up with minimum of 25 sq meters. Consider the accessibility to water source and convenience to your target customers. Once a legitimate location is found, coordinate with your chosen vendor to supply and install the machinery. Do not forget to ask for official receipt when making payments.
During installation, ensure that the prescribed layout is followed. Pay close attention on washing area, piping and drainage areas. During installation, it is expected that you have processed necessary paper works (permits, health clearance, employment contract, etc). Note that there are several offices that you need to approach (DTI, local municipal office, business bureau, sanitary engineer, etc) so take time to handle these requirements.
Upon receipt of business name from DTI, apply for business permit from office of the Mayor. Some offices may require you to submit (a) water analysis of potability (physical, chemical and bacteriological test) from your raw or source of water. (b) Engineering drawings (building and electrical plan) signed by a sanitary engineer at other common legal requirement when applying for a building permit.
Buy store supplies necessary to start business: water containers, sanitizer soap, cap seals, heat gun, printed sticker labels, etc.
Do a dry-run of the machine and equipment to ensure it is working properly. Having a water sample tested to prove water quality is fit for commercial purposes. The Department of Health If the test results show below average quality, consult the vendor to get the desired water quality.
Frequently asked questions
Q. What are the different types of water you can sell?
A: Mineral water – less expensive to produce but shorter shelf life
Purified water – uses more expensive equipment — uses "reverse osmosis system" so water lasts up to six months
Alkaline water – becoming popular with the notion that alkaline/ionized water "mops up" dangerous free radicals found in the body. Also has shorter shelf life.
Pi-water – discovered in Japan; enhances living energy. Improves the condition of incurable and chronic diseases, grows plants faster and healthier, and keeps food fresh longer.
Q: What is the best source of water, commercial water distributed by local utility or deep well?
A: Deep well saves monthly expenses.
Q: How many personnel is required to run a water station?
A: To start the business, 3 staff may 1 manager, 1 driver/helper and 1 refiller/washer. The number of personnel is relative to the demand of your products.
Q: What are the consumable items with this type of business?
A: Sediment Filter = replace every month or depending on the quality of the water source.
GAC or Carbon Filter = usually 6 to 8 months average but if the water source is not good maybe 4 months only
Carbon fillings = 8 moths to 1.5 years average lifespan, or will be replaced if broken or the water starts to smell
Basic Feasibility Study
A. Capital Investment
Water Refilling Machine – P 250,000.00
Renovation or new store at least 20sqm size – 75,000.00
Delivery vehicle (motorcycle with carrier or multi-cab) – 75,000.00
Business permit & other legal docs (DTI, Mayor's permit, Water testing, etc.) – 10,000.00
Initial Supplies /miscellaneous – 31,750.00
a) 150 Bottles slim – 18,750.00
b) 50 Bottles round – 7,500.00
c) heat gun- 2,500.00
d) Stickers – 3,000.00
Others – 8,250.00
Total = P 450,000.00
Note: Actual investment may increased or decreased depends on your actual resources, example:
a.) less amount for the delivery vehicle if you already have existing or you can buy 2nd unit.
b.) less amount for the store building if you have existing.
c.) increase or decrease amount on refilling equipment, depends on what type of water product you wants to sell ( e.g. Mineral is only P150,000.00 etc.)
B. Sales Income
Check the market price per 5 gal. container. Price may vary depends on the area what type of water product you want to sell:
Mineral Water – P20 ~ P25 per container
Purified Water – P30 ~ P35 per container
Alkaline Water – P45 ~ P50 per container
PI Water – P200 ~ P250 per container
B1. Monthly Sales – P39,000.00
First 2 Months: Target is at least 50 containers /day (50 containers x P30.00 selling price x 26days)
B2. Monthly Expenses – P15,600.00
Manpower/salaries – P 500/ day or P 9,100.00 /mo.
1 driver – P200 /day
1 re-filler – P150 /day
Electric bill – P3,500.00
Phone bill – 500.00
Transportation / gas allowance – 1,500.00
Consumables and others – 1,000.00
B3. Net Profit- P23,400.00 (Gross Sales – Gross expenses = Net Profit)
Note: You cannot compute your monthly sales based from your machine capacity (GPD Gallon Per Day) like other vendor's computation, since it's not realistic you will sell 200 bottles a day in the first 2 months operation of your business unless you're already operating for a year and already established your loyal customers in your area.
Registration Requirements
1. Business Name Registration
Visit Department of Trade & Industry (DTI)
Provincial Office where the business is located or log on to www.bnrs.dti.gov.ph
2. Mayor's Permit/Residence Certificate & Sanitary Permit
From the local municipality where the business is located
3. Tax Identification Number (TIN)
Bureau of Internal Revenue (BIR) National
Office, Agham Road, Diliman, Quezon City
Trunkline: (632) 981.70000 / 981.8888
Email: contact_us@cctr.bir.gov.ph
Website: www.bir.gov.ph
Financing Facility
SSS Special Financing Program
Social Security System (SSS)
Loans and Investment Office
SSS Building, East Avenue, Diliman, Quezon City
Tel. Nos.: (632)920.6401 / 920.6446
Email: member_relations@sss.gov.ph
Website: www.sss.gov.ph
Small & Medium Enterprise Credit
Phil. Business for Social Progress (PBSP)
18th Flr., Phil. Social Dev't. Center,
Magallanes cor. Real St. Intramuros, Manila
Tel. Nos. (632)527.7741 to 51 or 527.3751
Fax No. (632)527.3743
Email: pbsp@pbsp.org.ph or smec@pbsp.org.ph
Website: www.pbdp.org.ph
People's Credit Finance Corporation
395 Sen. Gil Puyat Ave. Makati City
Tel. Nos. (632) 897-8549 / 897-5822
Fax No. (632) 897.8523 / 897.8528
Email: info@pcfc.ph
Website: www.pcfc.gov.ph
Training Institutions
DTI-Cottage Industry Technology Center (CITC)
20 Russet St., SSS Village, Makati City
Tel. Nos.: (632) 942.0880 / 942.3974
Email: citc_dti@yahoo.com
Technology Resource Center (TRC)
TLRC Building, 103 J. Abad Santos cor. Lopez Jaena Sts.,
Little Baguio, San Juan, Metro Manila
Tel. Nos.: (632) 727.6205
Website: www.tlrc.gov.ph
Technical Education and Skills Development
Authority for Women Center (TESDA-WC)
37 East Services Rd. South Superhighway, Taguig City
Telefax. Nos.: (632) 818.8062
Trunk line: (632) 814.4076 loc. 278
Email: tesdawomen@yahoo.com
Website: http://twc.tesda.gov.ph