Seeing his future bleak while in the Philippines, Marvin Aguda joined the overseas Filipino worker bandwagon and left the country for Italy in 1999.
And like other Filipinos seeking brighter future overseas, he had to take on different jobs: cleaner, caregiver, waiter.
In 2002, he found a job as a dishwasher at Il Postino, where his tasks would include cleaning tables and toilets, throw the garbage and wash piles of plates and glasses.
"Ako, nagsimula din ako sa pinakamababang posisyon dito sa Italya. Nagtrabaho din ako sa bahay, nagsimula ako dito na ako ang naghuhugas ng pinggan, ako ang naglilinis dito ng banyo, ng lahat," said Aguda whose observant characteristic helped him learn new things.
He would watch the chef prepare different types of pizza and learned the process of pizza making, from kneading the dough and slicing ingredients to garnishing of various toppings.
When one of the business owners died, the female boss who was left to manage the business decided to sell the restaurant. But because she did not want anybody else taking over, the boss accepted Aguda's offer of buying the place via loan from the bank.
"Kailangan lang talaga dream big, kailangan mataas ang iyong pangarap sa buhay hindi yung laging hanggang doon na lang, hindi ko kaya yan, hindi pwedeng ganoon," Aguda said.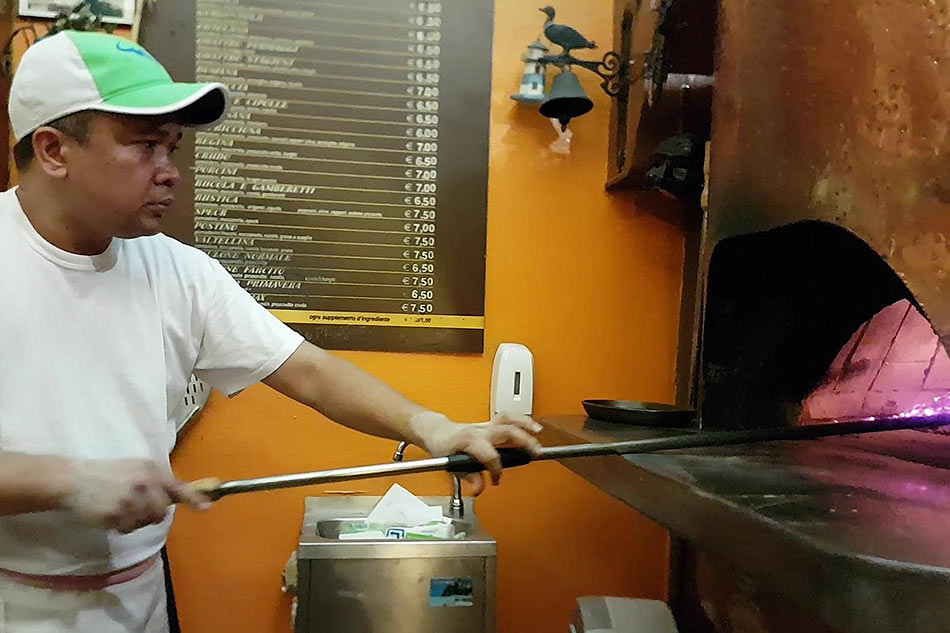 After two years, Aguda managed to pay off his loans, formally making him the chef and owner of the pizzeria he once served as a dishwasher. More than just an owner of a pizzeria, Aguda earlier achieved the distinction as the only pizzaiolo or pizza chef in Milan.
"I was thinking that the Italian people are the best in the world in making pizza but after I tried Filipino-[made], I changed my mind," said Giovani Teoli a regular customer of Il Postino.
Located in the non-tourist district of Milan, Il Postino is a busy little restaurant which gets crowded as natives and even tourists enjoy their conversations with pizzas folded wallet-style and a glass of beer.
Aguda, now the chef, spends 10-15 minutes for Aguda to prepare pizza. Preparing the ingredients in the marble counter and cooks all orders in a brick oven. Together with his brother, Aguda's pizzeria churns out over 200 pizzas daily, with customers often praising the delicious menu and fast service.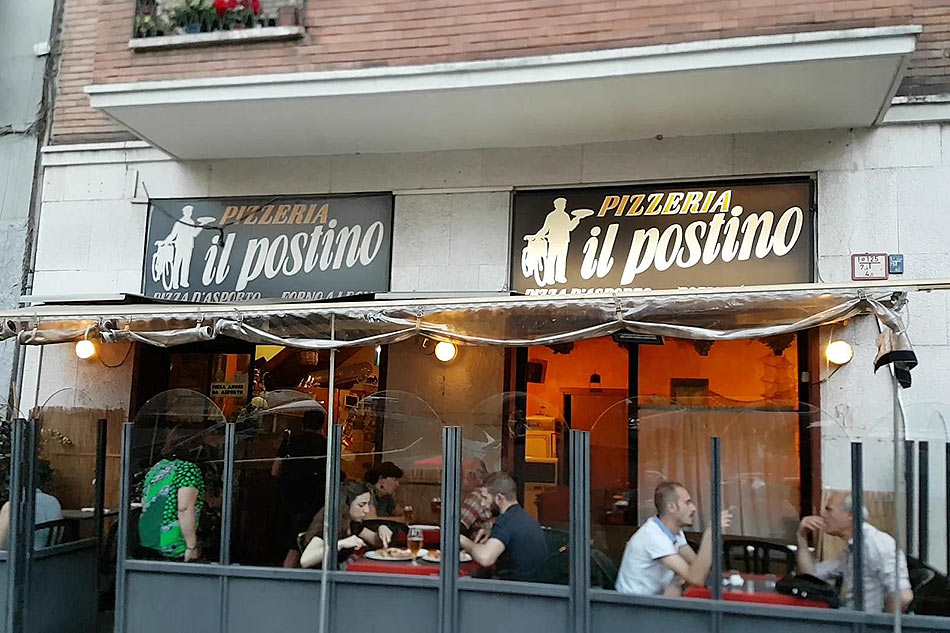 There are a lot of pizzerias in the neighborhood but for Alessandro Clauti, Il Postino is his go to place for a quick take-away pizza.
"They're able to make traditional pizza easy but also very good, plain but tasty," he said of Il Postino which in addition to traditional Italian menu, also serves fusion dishes and Filipino-style spaghetti and pizza. His version of Sisig Lechon Pizza is a fusion of crunchy pork lechon and margherita pizza, catering to his regular Filipino customers on Saturdays. They were also a hit once Aguda introduced them to Italian customers.
Commenting on his success in the pizzeria industry, Aguda comments that there is no overnight success, but hard work and continuous effort helps achieve dreams despite failures and difficulties.
Photo credits: ABS-CBN News