For the benefit of clients and customers, operators of repair shops and service providers must be accredited by the Department of Trade and Industry.

With an accreditation, customers are more encouraged to patronize service not only for skills and competence of staff in the shop, but also for protection in case of unforeseen circumstances such as accidents and delivery delays.

There are four main categories for an accredited repair service provider:

Automotive and Heavy Equipment

Engine and Engineering Works and Machine Shops

Electronics, Electrical, Airconditioning, and Refrigeration Service and Repairs

Office and Data Processing Equipment
Here's how to get your shop accredited by DTI.
1.  Fill out the accreditation form. (Download here)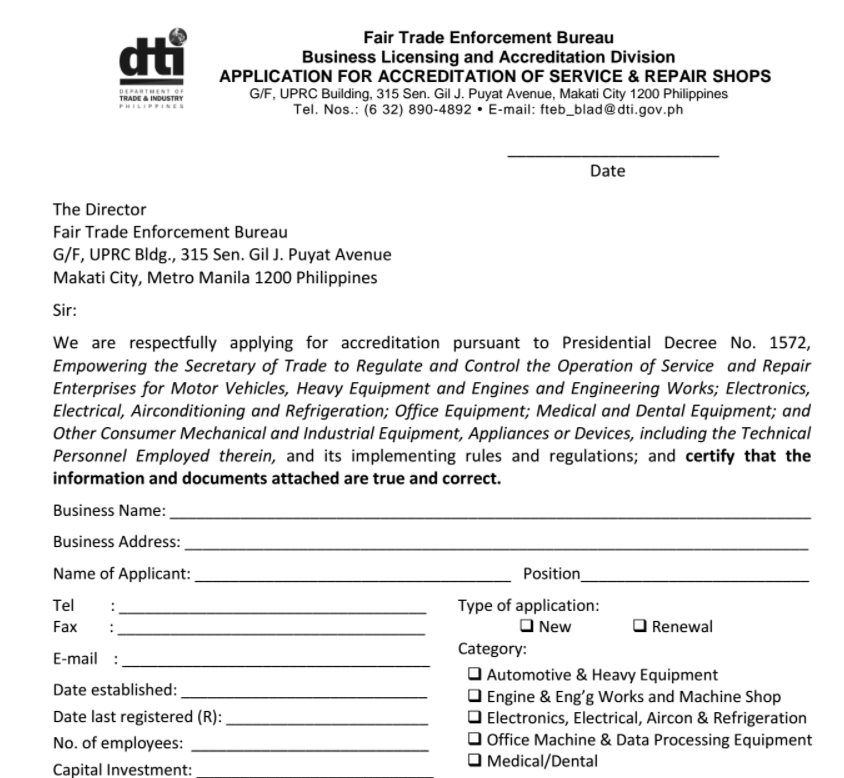 2. Fill out the application form. (Download here)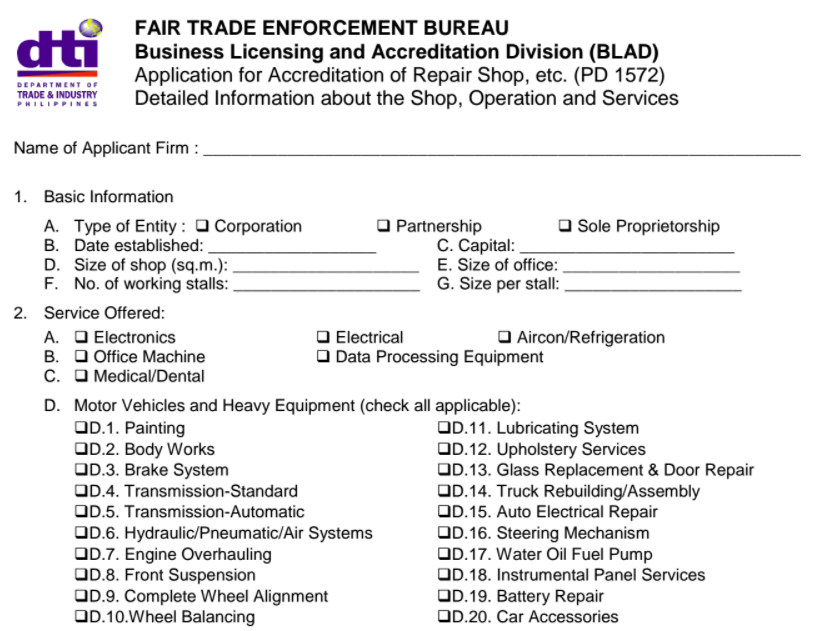 3. Fill out the bio data. (Download here)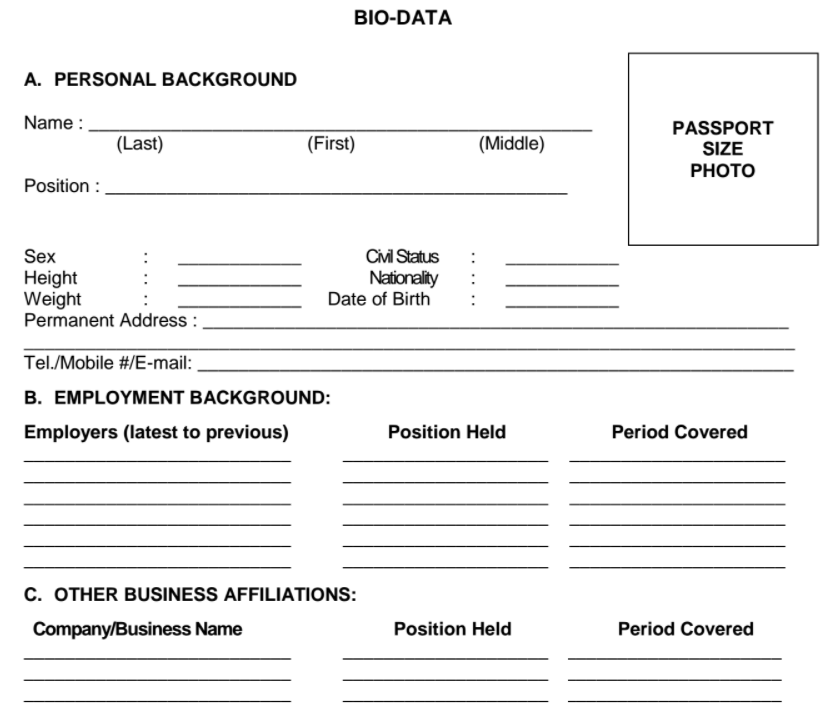 4. Fill out the warranty of service form. (Download here)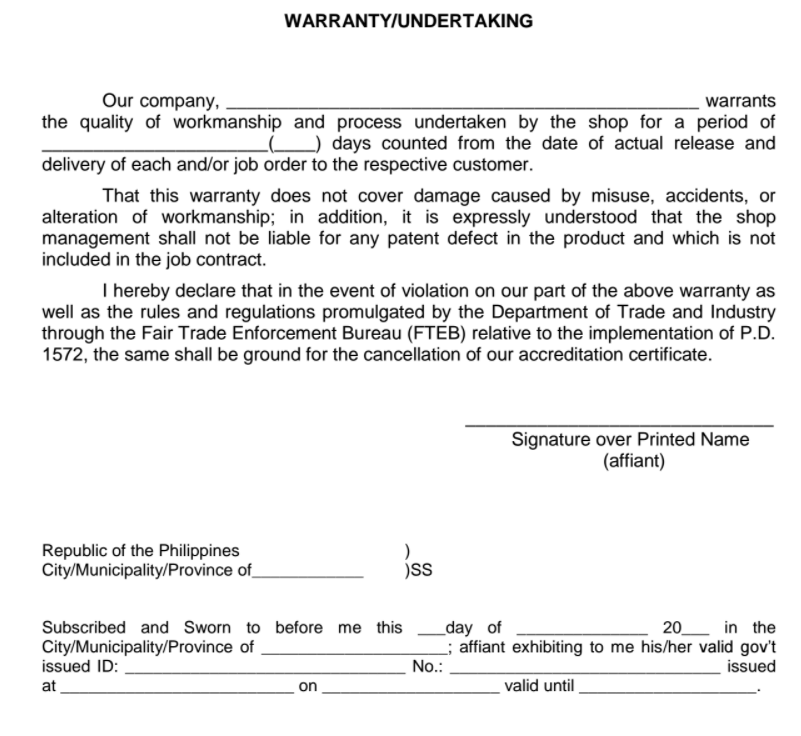 5. Provide the required supporting documents. (Download checklist here)
Requirements: (officer may check certain requirements for you to provide)
1a. Notarized completely filled out application form. (Signed by the proprietor for SPs, if other than the proprietor, attach SPA; President/Managing Partner for Corporation/Partnership, otherwise, attach Secretary's Certificate or Board/Partners' Resolution re:authorized signatory);
1b. Detailed Information about the Shop (New);
2. Undertaking/Warranty, minimum warranty of 90 days;
3. Copy of Latest Accreditation Certificate (if last renewal is before 2015);
4. Copy of Valid BN Certificate of Registration for single proprietorship;
5. Certified True Copy by the Corporate Secretary (original signature) of SEC Registration Certificate and Articles of Incorporation/Articles of Partnership for new applicants; for renewal- SEC Registration Certificate only;
6. Organizational Chart, include name and position of officers, for New and Renewal- if there are changes in the Organizational chart for updating purposes;
7. List of Shop Employees/Mechanics/Technicians and Position (attach Personal Data Sheet of technicians- New and Renewal if with new technicians, or if last renewal was before June 2015;
8. Valid and relevant TESDA National Certificate for Technical Employees; Automotive shops that service and repair auto aircon, should have at least one technician with Transport RAC Servicing NC II or Automotive Servicing NC III;
9. Certified List of Trainings Attended by the Employees for the last 2 years (for RAC & MAC, per DAO3:2006);
10. List of Shop Tools and Equipment (New and Renewal, if there are changes for updating purposes). RAC & MAC applicants must have a refrigerant recovery machine.
11. Shop Floor Plan/Layout/Size/No. of Stalls. For new and renewal, if there are changes for updating purposes;
12. Photos of the Shop (Office–for those with "no shop") – showing front (with signages) and interior including the facilities and/or equipment; new and renewal, if there are changes for updating purposes;
13. Certification (in lieu of items 6,7,10,11 or 12) that there are no changes on the said items for renewals, provided that said requirements have been previously submitted..
14a. Copy of Insurance Policy covering the customers' properties entrusted for repair or services against theft, pilferage, fire, flood and loss. Insurance coverage must be for one year and its expiry date must be on or after December 31 st 20__ and Official Receipt (proof of payment of insurance premiums).
14b. Affidavit stating that all services and repairs are done in the clients' premises (for applicants that conduct all services and repairs in their client's premises, in lieu of insurance policy). Additional requirements for those applying for more than One Star:
15. Copy of the latest audited financial statements stamped "Received" by BIR; 16. Original copy of valid dealership agreement (five-star only – automotive or RAC&MAC);
17. Copy of Valid Contract of Service (if any);
18 Original copy of Performance Bond policy and official receipt with minimum coverage of P50,000, in favor of the DTI valid until or after Dec. 31, ____(for 3 to 5 STAR, both New and Renewal).
6.  Once submitted documents are complete and in order, you will be issued an Order of Payment slip to pay the required accreditation fees.
7. Pay the required accreditation fees at the Cashier.
8. Submit the validated Order of Payment slip and the application documents.
9. Pick up the certificate.

CONTACT INFORMATION
Fair Trade Enforcement Bureau (FTEB)
UPRC Building
315 Sen. Gil J. Puyat Ave., Makati City
Tel. No.: (+632) 811.8231
E-mail: fteb@dti.gov.ph