(PIA) A former Overseas Filipino Worker in Ilocos Norte has proven that mushroom growing is a lucrative source of a sustainable income.
Freddie T. Usita, 50, a mushroom grower who owns the Usita Mushroom Farm in Barangay 10, Arua-ay, Piddig, Ilocos Norte, said there is no need to go abroad to earn a high income.
"We have a lot of opportunities in our country, however, we only need to be more creative coupled with more patience and perseverance," shared Usita.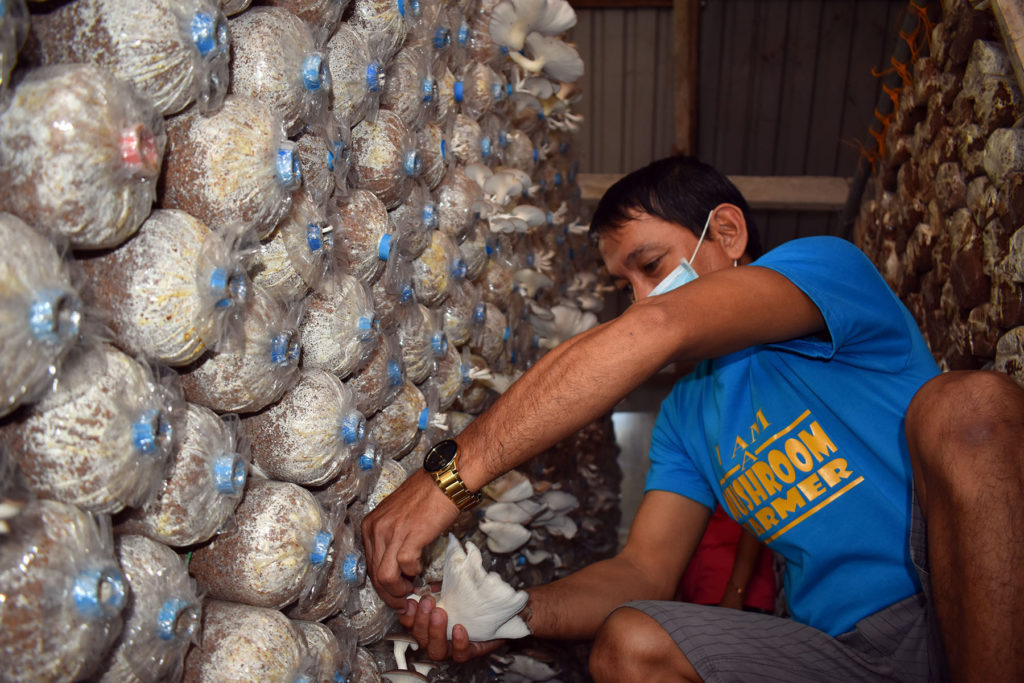 "It took a lot of effort and hard work for me to be able to pursue and establish my mushroom farm, said Usita, a welder in Taiwan but was laid off when the company where he was working transferred to China.
Upon arrival from Taiwan, he was doubtful of what would be the future of his family but he did not lose his hope. Since he was interested in agriculture, he engaged in small quail production business but bankrupted due to insufficient knowledge and management.
In 2011, he tried the backyard mushroom production but he failed again. However, his interest in mushroom production did not stop there, as he enrolled in Marcos Agro-Industrial School to take-up a short-term course on mushroom production under Horticulture NCII. There, he learned the proper mushroom production technology to include tissue culture, creating spawns, and producing fruiting bags.
The Marcos Agro-Industrial School is a technology institute under the Technical Education and Skills Development Authority (TESDA) based in Marcos, Ilocos Norte.
After graduation, he revived his mushroom farm applying the technologies he learned from the TESDA and made it successful.
Few years after, his mushroom venture was sustainably developing as he already started supplying cultured mushrooms not only in the province of Ilocos Norte but also in the provinces of Ilocos Sur and Cagayan. He is growing the oyster white mushroom and the oyster gray mushroom.
Currently, Freddie and his wife, May, are earning an average net income of P27,500 per month from mushroom production.
With 2,500 mushroom fruiting bags that he is presently growing in his farm, he spends an estimate of P15,000 for his inputs of production like sawdust, cellophane, lime, rice bran, and labor.
Each fruiting bag produces an average of 250 grams of mushroom within a period of four months to include the planting and growing. The total production of the 2,500 fruiting bags could be 625 kilograms with a gross value of P125,000.00 considering that P200.00 per kilogram is the current market value of cultured mushroom in the public market in Ilocos.
"Actually, we have a continuous production of mushroom fruiting bags to sustain our supply for our regular clients," he said.
To augment his income, he also engaged in the production of mushroom fruiting bags for sale to the public at P20 each.
"All wasted mushroom fruiting bags after the four-month of production period are decomposed as organic fertilizer and also utilized for vermicomposting of organic fertilizer," said Usita.
With his income from mushroom growing, he purchased 2,800 square meters of agricultural land and a vehicle and has a comfortable amount of savings in the bank.
His income in mushroom farming is the source of the daily allowance of his youngest child, who is currently a Grade 12 student in a reputable school in Ilocos Norte. His eldest daughter, who is currently working as call center agent, finished her college education in an exclusive school in the province.
Through his intensive mushroom production, Usita has also created job opportunities for his neighbors. At present, he employs three part-time workers who help him in his farm.
With his exemplary performance in mushroom growing, Usita was awarded as 2016 Idols ng TESDA for Region 1 and was nominated for the national level.
Usita encourages the residents in the Ilocos to engage in mushroom production considering its health benefits.
Mushroom is a very nutritious food and a good source of vitamin B along with essential minerals such as copper and potassium. Modern studies suggest mushrooms can be used as antibacterial, anti-inflammatory, and antioxidants. While also helping to reduce blood pressure, moderate blood sugar, reduce cholesterol, enhance the immune system, it also reduces stress and help in fighting many types of cancer.