A carinderia business may be one of the labor-intensive businesses to operate. But this can also be one of the most rewarding right types of business to invest in the Philippines as you serve hungry customers while turning a neat profit when managed properly.
A local eatery — locally known as karinderya or turo-turo — is a commonly observed type of business in the Philippines. Whether you're near the market, schools, bus terminal or office buildings, a karinderya is not a difficult to find. And it's not too difficult to start the business either. With accessible sources of ingredients, complete set of utensils and available space, you can even start your eatery business right at your home.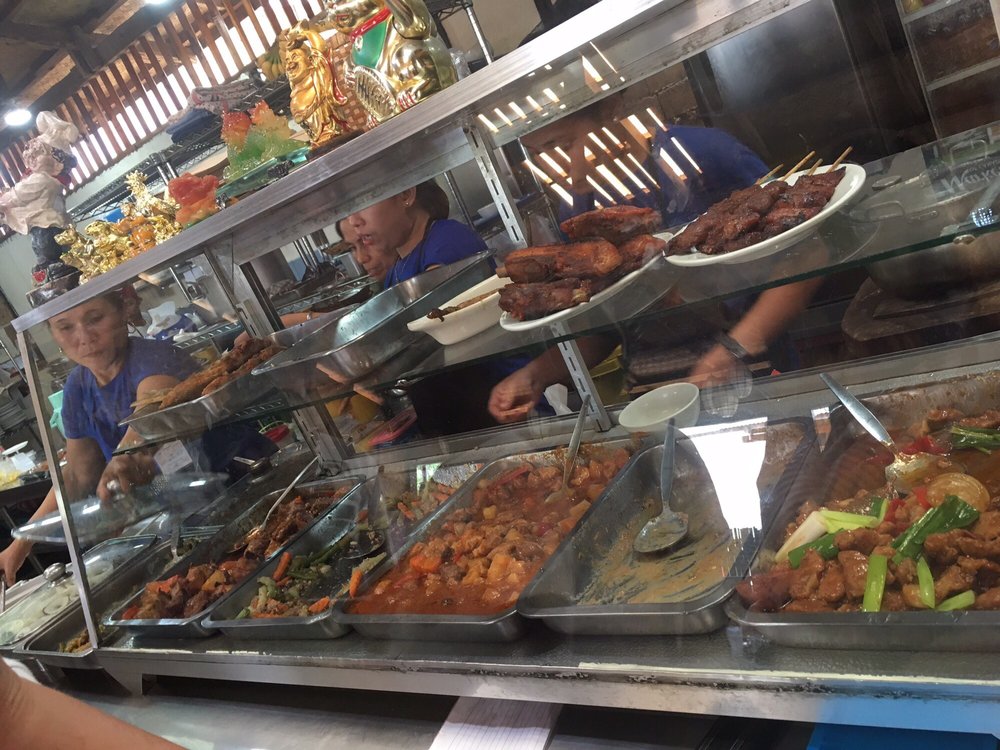 Capital money
Apart from table and chairs, table and cooking utensils, bulk of capital will be spent on purchase of ingredients such as meat and poultry, vegetables, spices and condiments. A small carinderia or food kiosk requires a startup fund of about P15,000 which will be good to buy two week's worth ingredients, business permit fees, cooking utensils, fuel and space rental. Assuming a net income of P600, you're business is expected to break-even within the second month of operations.
Cooking materials
If you are going to provide a variety of meals — soup, stew, veggies and more — you need more materials to store, prepare, cook and serve them. To save time cooking, you need more cooking stove (or one that uses firewood or charcoal), and pots to cook and place food on. Of course you need tables and chairs, barbecue pits, glasses, dishes, spoon and fork, peelers, knives, grinders, condiments, toothpick containers and other accessories helpful in either dining table or the kitchen.
Labor
It's a given that a cook is needed to operate a karinderya or catering business, but also other staff is needed. From dishwashers and cleaners to waiters and cashiers, the number of staff may initially depend on the number of first wave of customers. As loyal customer number — and menu list — grows, more work is then available so extra staff is necessary.
Location
The choice of location can make or break a restaurant business. This principle also applies to much smaller karinderyas that compete against other low-cost food options. Places frequented by people — areas near schools, public transport or within public markets — are idea places to setup karinderyas. But even if karinderya business is located in your own backyard, it will still be a good business operation if there are fewer or no competition and produces popular food that attract loyal customers.
Dedication for work
A successful eatery business starts with the dedication from its owners, many of whom wake up as early as 2:00am to find the freshest produce — meat, vegetables and other ingredients — to cater to the discriminating palate of their regular customers. And once they get back to their restaurants, they immediately get to business preparing the ingredients and proceed with cooking.
Menu
Besides identifying the perceived taste of customers, menu can be decided based on available ingredients. Planning needs to be made for at least a week.  Some owners limit their menu offers on few established best-selling dishes, but this is often possible after the operation has been established in the neighborhood. For example, you may consider specializing in goto and lugaw, or fried chicken or pork barbecue. Others choose to serve breakfast and lunch, and others only focus on dinners. Getting feedback from customers can also be a part of
Price
Reasonable pricing and distinctive offer (free soup, unlimited rice, etc) should attract new customers and retain regulars. Important thing is to make money without compromising on affordability on the part of your  target market. Calculate the amount spent on ingredients, compute how many servings, and consider wastage of food, wages of cooks/waiters/cashier and expenses such as transportation and other overhead costs.
Do a market research
Ask yourself the following questions:
Why do people buy outside instead of cook at home?
Which meal do people tend to eat outside?
How many canteens, restaurants or fast food chains are present in the area?
Can I compete with them? Do I need to be unique or try to accommodate what's popular?
Who is the strongest competition in the area?
What type of food do customers prefer to eat?
What do I need to do to get customers?
How do I promote my karinderya?
Should I cook dinuguan, beef steak and ginataang monggo or pork chop, Bicol express and laing?
If I am close to schools, should I offer student meals at reduced price?
Is it a good idea to sell other stuff like text load, junk food or offer videoke booth?
How do I minimize food waste? Is it a good idea to offer huge discounts during off peak hours?
Having done your market research is essential in deciding to put up the business, what to serve and how to promote it.
Purchase equipment
Assuming that karinderya is a viable business to setup in your chosen location, it's about time to purchase necessary equipment.
Kitchen tools (stove, frying pans, pots, etc)
Kitchen utensils (knives, peelers, etc)
Table accessories (table mat, glasses, fork, spoon, plates, pitchers, etc)
Tables and chairs
Refrigerators – you may loan one from softdrink dealers under a deal to distribute only their products
Register business
This may be step 3 but can easily be the first one to be accomplished while karinderya is being setup (setup tables, cooking and washing areas, etc.) or looking for skilled and trustworthy staff. Certain local government units require proof of clean bill of health, sanitary permits, garbage disposal and so on.
Find trusted staff
Finding trusted staff can be one of the hardest things to do. They compose the vital cog that runs the business and needs to be taken cared of. If a handsome pay is out of the question, consider offering them non-monetary benefits (free meals, SSS membership, reasonable working hours, paid leaves), treat them well and later empower them as though they own the business.