When you are building your small business, one of the crucial needs to get it moving is infusion of fresh capital. Whether you are acquiring new equipment or upgrading the current one, buying property or expanding your line of products, applying for a small business loan will help meet these requirements.
BDO Small Business Loan
BDO is largest bank in the Philippines in terms of assets, with assets valued at P1.03 trillion under its management in 2016. It offers BDO SME Loan, which provides financing options for your business.
BDO SME Loan comes with Term Loan, the conventional fixed-loan facility where a fixed amount is lent to borrower at a specific payment timeframe under certain interest rates.
It also has SME Ready Check, which acts as secured revolving credit line which can be used anytime to address business capital requirements.
Payment Terms for BDO SME Loan
Applicants can borrow up to P20 million depending on the appraised value of collateral – residential, mixed-use or commercial properties. And based on existing cash flow, borrowers can repay loans between one and 10 years.
Loan Application
Business owners can simply head to any of more than 880 BDO branches all over the Philippines to apply for loan and receive expert advice from dedicated account officers.
BDO SME Loan Interest Rates

Eligibility Requirements for BDO Small Business Loan
For Individuals / Sole Proprietors
21 years old at the time of loan application and not older than 65 years old at maturity
Business is in profitable operation for at least 2 consecutive years, with minimum annual gross sales of P1 Million
With stable source of income from business and/or employment
If Employed, at least 2 years of continuous employment (may be waived if rank is at least Manager level)
If Professional (doctor, lawyer, etc.), at least 3 years in practice of profession
With good credit standing
For Partnerships / Corporations
Business is in profitable operation for at least 2 consecutive years
With minimum annual gross sales of P1 Million
With SEC or DTI registration or application papers if registration is still pending
Principal business must be within a BDO serviceable area
With good credit standing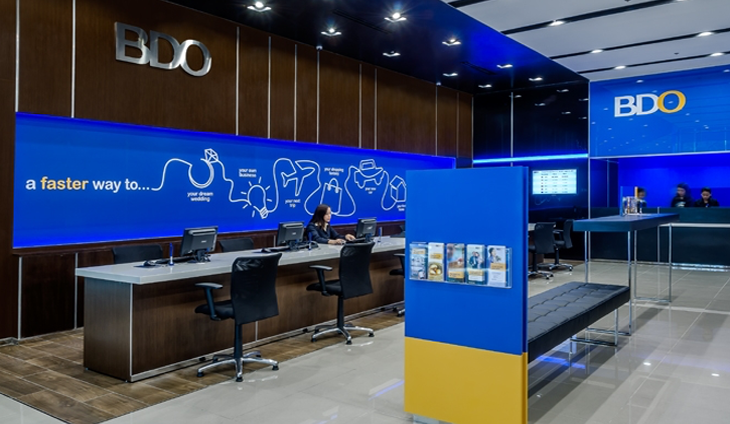 Documentation Requirements
A. Pre-approval Requirements
Basic Documents
Completely filled-out application form
Clear copy of one (1) valid ID matching application details
Last 2 years Income Tax Return (ITR)
Marriage contract, if applicable
Business / Income Documents
For Employed Individual
Latest Crew Contract and Employment History
Original Certificate of Employment & Compensation
Certificate of Employment & Income or Employment Contract (for OFWs)
Last 3 months Proof of Remittance (for OFWs)
Latest Full-Month Payslip
For Sole Proprietorship
Last 2 years Audited Financial Statements
Last 6 months Bank Statements or photocopy of passbook with transaction records for the past 6 months
Department of Trade & Industry (DTI) Registration
Business Permit / Mayor's Permit
Business Background / Company Profile
List of major suppliers and customers (minimum of 3) with contact information
For Partnership
Last 2 years Audited Financial Statements
Last 6 months Bank Statements or photocopy of passbook with transaction records for the past 6 months
Securities & Exchange Commission (SEC) Registration
Articles of Partnership
Business Background / Company Profile
List of major suppliers and customers (minimum of 3) with contact information
For Corporation
Last 2 years Audited Financial Statements
Last 6 months Bank Statements or photocopy of passbook with transaction records for the past 6 months
Securities & Exchange Commission (SEC) Registration
Latest Amended Articles of Incorporation & By-laws
List of Elected Officers
Board Resolution or Secretary's Certificate
Business Background / Company Profile
List of major suppliers and customers (minimum of 3) with contact information
Collateral Documents
Copy of TCT/CCT (property title)
Copy of Tax Declaration
Appraisal Fee with Official Receipt
Building Plan or Floor Plan (for Construction Loan)
Bill of Materials and Labor Cost (for Construction Loan)
Building specifications certified by Architect / Civil Engineer (for Construction Loan)
Latest Statement of Account and Official Receipts for the last three (3) months (for Refinancing / Loan Take-Out)
Copy of Lease Contracts and Title for Income from Rented / Leased Properties (if applicable)
B. Post-approval Requirements
Original Owner's duplicate copy of TCT/CCT
Original Certified True Copy of latest Tax Declaration on land and improvement
Master Deed of Declaration (for condominium)
Original Certified True Copy of Tax Clearance
Original Real Estate Tax Receipts
Electronic-certified True Copy of TCT/CCT with Original Official Receipt
Mortgage Redemption Insurance
Fire Insurance
Payment of Bank Charges (if applicable)