Potato Corner is a well-known flavored french fries food company in the Philippines. Its stalls are usually found inside shopping malls or independent shops within busy Philippine streets and has over 800 branches not only in the Philippines but also in the United States, Australia, Hong Kong, Singapore, Indonesia, Malaysia and Thailand.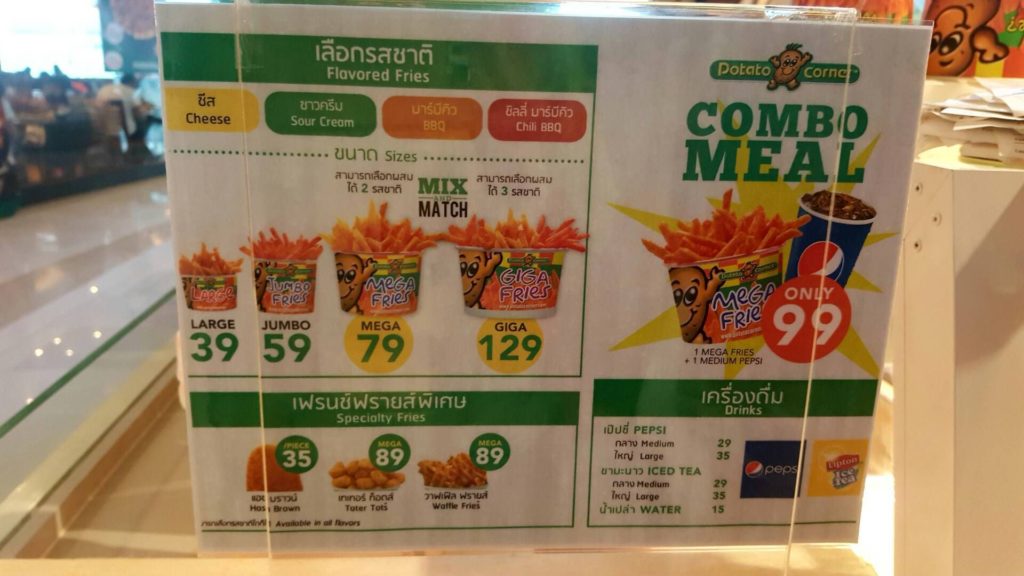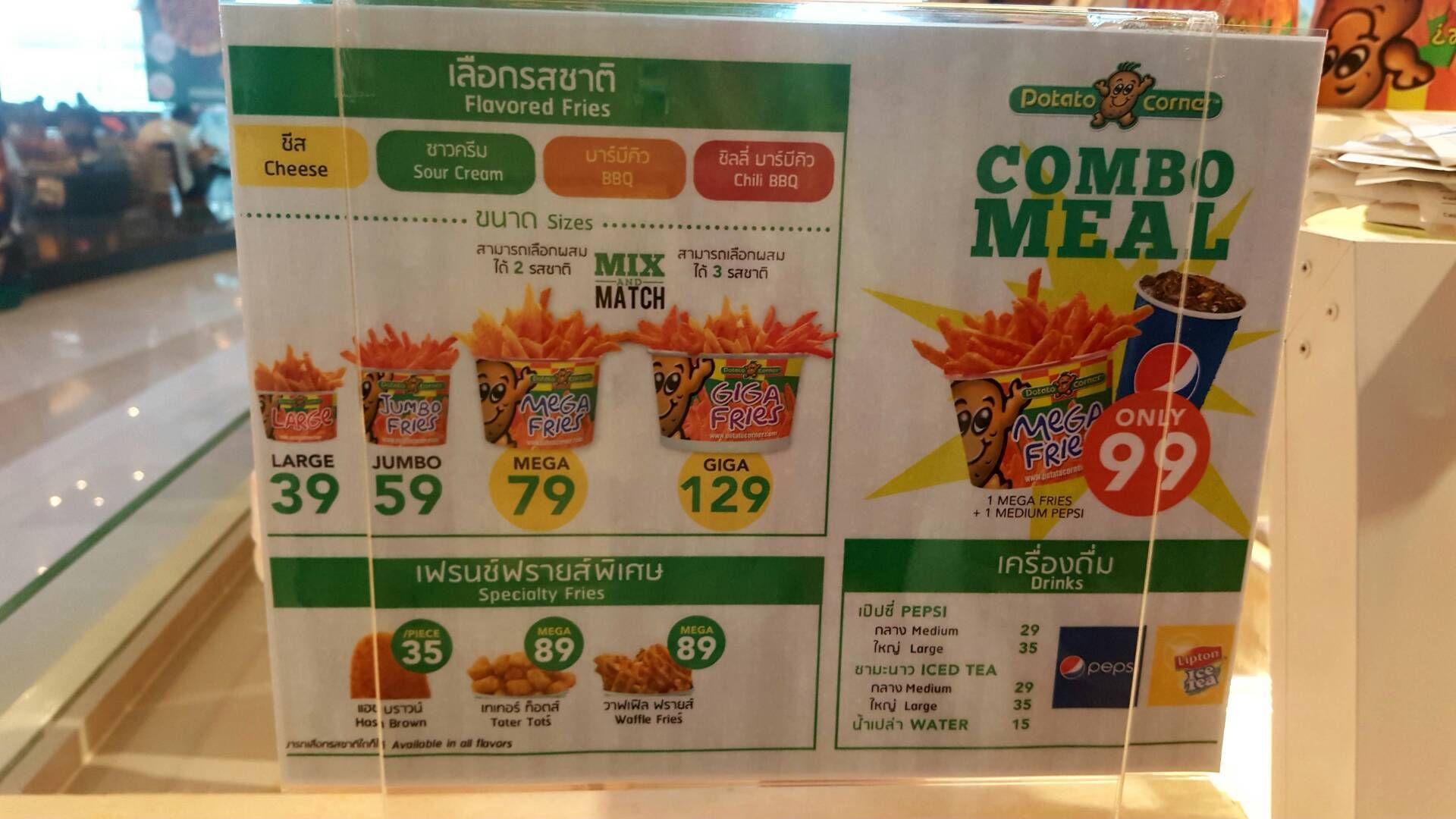 Priced between P100 and P245 in the Philippines, potato products — mostly fries — are well within the Filipino buyer's price point consideration. Fries come in different shapes and flavors and are priced based on taste and size (regular, large, jumbo, mega, giga, and tera).
Potato Corner flavors
BBQ – a smoky and slightly sweet barbecue flavor
Cheese – a cheesy flavor with a hint of salt
Sour cream and onion – a tangy and savory flavor with onion undertones
Chili BBQ – a spicier version of the BBQ flavor
Garlic – a garlicky and savory flavor
Barbecue & Sour Cream – a combination of BBQ and sour cream and onion flavors
Wasabi – a spicy Japanese-inspired flavor
Truffle – a luxurious and earthy flavor made with truffle oil and Parmesan cheese
Curry – a spicy and flavorful curry powder-based flavor
Ranch – a creamy and herby flavor similar to ranch dressing
Pizza – a savory flavor with hints of tomato, cheese, and Italian herbs
Salt and vinegar – a tangy and salty taste with a touch of acidity
Kimchi – a spicy and sour Korean-inspired taste made with fermented cabbage and red pepper paste
Honey mustard – a sweet and tangy flavor with hints of honey and mustard
Cajun – a spicy and flavorful blend of Cajun seasonings and spices
Jalapeno – a spicy and slightly smoky flavor made with jalapeno peppers
Cinnamon sugar – a sweet and tangy flavor made with a mix of cinnamon and sugar
Mala – a spicy and numbing Chinese-inspired flavor made with Sichuan peppercorns and chili peppers
Salted egg – a savory and slightly sweet flavor made with salted duck eggs
Tandoori – a spicy and flavorful Indian-inspired flavor made with tandoori spices and herbs.
Potato Corner Menu Price – 2023
PHILIPPINES
Menu Items
Price (PHP)

New Products

Super Chicken Pop Solo
99
Super Chicken Pop Snack
109
Super Chicken Pop Meal
159
Fries
Regular
29
Large
55
Jumbo
85
Mega
110
Giga
179
Tera
209
Pop Corn
99

Flavors

Cheese
BBQ
Sour Cream
Chili Barbeque
Ranch o Cheddar
Wasabi
Sweet Corn
Curry
10
Truffle
10
Spicy Cheese
10
Kimchi
10
Bleu Cheese
10
Ketchup Mayo
10
Cookies and Cream
10
Chocolate
10
Seafood
10
White Cheddar
10
Chili Lime
10
Paprika
10
Cinnamon
10
Sweet and Sour
10
Butter and Garlic
10
Maple Bacon
10
Honey Butter
10
Cotton Candy
10
After it launched its first outlet in 1992, Potato Corner's success in the enhanced french fries business became evident when it started its franchising business only one year later.
Its success was recognized as the Franchise Excellence Hall of Fame Award recipient by the Philippine Franchise Association and the Department of Trade and Industry in 2003 for being the Best Franchise for three consecutive years.
Its reach has extended beyond the Philippines, as people love fries worldwide.
As a Potato Corner franchisee, you will join the bandwagon of the company's time-tested business plan, a winning set of recipes, and a reputable brand known globally.
Each Potato Corner shop has several strategic advantages:
Its menu offerings are widely accepted forms of snacks
Its food preparation time is short and therefore is within a manageable waiting time
Its manpower needs is minimal, helped by Potato Corner's simple food preparation process
Its servings and packaging is geared toward on-the-go pedestrians
Its location is within a prominent spot — within shopping areas, schools and other areas with high foot traffic
Its food carts can operate within small area, therefore reducing costs of lease and maintenance
Commonly asked questions:
1. Who can apply for a Potato Corner franchise?
Anyone who is a resident of the Philippines or any of our locations can franchise a Potato Corner store (United States, Australia, Hong Kong, Singapore, Indonesia, Malaysia or Thailand), booth, or kiosk as long as all necessary documents are submitted and all necessary fees paid for.
2. What are the primary considerations before applying to be a franchisee?
Potato Corner does not provide locations for franchisees to set up their store, booth, or food kiosk, so the first consideration would be the desired shop location.
The second item a franchisee must consider is investment capital. Potato Corner Franchise Package is P350,000 for the standard cart, a pop-up, stand-alone cart you are most likely to see of a Potato Corner. However, it can range from P200,000 to P1,200,000, depending on the requirement of the lessor. The price will be dependent on the store type that you select.
3. What are the ideal locations to set up a Potato Corner store?
Generally, high foot traffic and pedestrian activity areas are best for setting up Potato Corner shops and other similar businesses. These may include shopping malls, transport terminals, schools or amusement parks.
4. How much does it cost to avail of a franchise package?
Potato Corner franchise package varies depending on the type of plan you wish to avail based on your chosen location. The package consists of a food cart or booth, establishment charge, products and supplies, introductory supplies and preparation for the franchisee and staff.
Standard Franchise Package: P350,000
Standard Cart measurements: Height: 2.10 m x Length: 1.90 m x Width: 0.80 m
PHP 150,000 – Franchise Fee for 5 Years
PHP 260,000 – Cart, Wares, Equipment
PHP 5,000 – Initial Supplies
Custom Fit or in-line Plans: P290,000
It is also possible to start your Potato Corner shop custom store measurements.
Initial Investment: P290,000.00 (excluding construction cost; Estimate at P50,000 per sqm)
Size: 5 to 6 sqm
Inclusions:
P150,000 – Franchise Fee for 5 Years
P140,000 – Wares, Equipment
P5,000 – Initial Supplies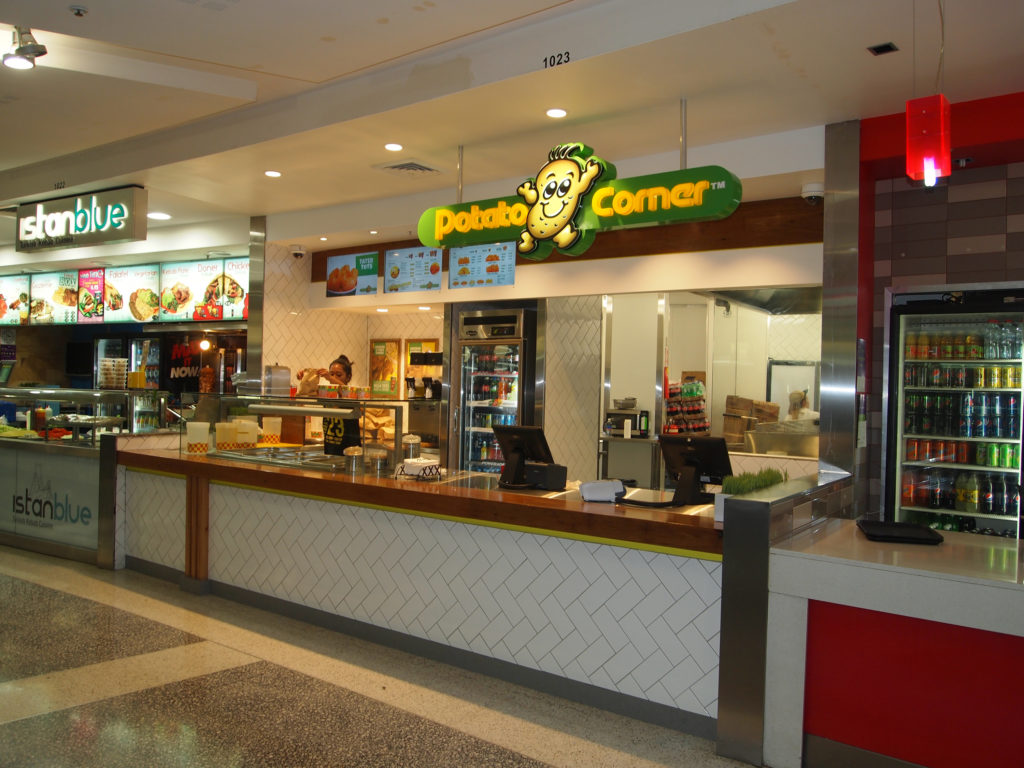 5. What does the franchise package fee cover?
The initial investment charged in the franchise package includes:
Cart/Kiosk
Franchise Fee
Small Wares & Equipment
Initial Supplies
Franchisee Training
Crew Training
6. What are the requirements to apply for the Potato Corner franchise?
Interested parties are requested to prepare the following documents:
Letter of Intent (please include your desired location and reason/s why you want to franchise)
Accomplished Market Study and Site Analysis Form (with actual photos and measurements of the area)
Draft lease Offer/Contract from the Lessor if renting
Two valid IDs (SSS, Voters, Postal, Passport, Philhealth, Pag-ibig, UMID)
Once Potato Corner has received a prospect's interest, a team will schedule a meeting, and a location visit may be done within the same day or maybe scheduled at another time.
Q: WHAT/HOW IS YOUR ASSISTANCE IN TERMS OF LOCATION?
A: Scouting for feasible locations is the care of the applicant. Our assistance is currently limited to assessing the proposed site for approval.
Q: CAN I PLACE A SCHOOL CART ANYWHERE?
A: Our School Cart package is only limited to school premises where the market is limited to Students and Faculty members.
Q: WHAT IS YOUR MINIMUM REQUIRED SPACE?
A: Required space should at least measure 5 Square Meters with a minimum frontage of 2.25 Meters to have enough working space!
Q: ON AVERAGE, HOW LONG IS YOUR ROI (RETURN OF INVESTMENT)?
A: ROI takes 12 to 18 months.
Q: WHAT IS YOUR COST OF GOODS SOLD?
A: On average, our COGS is 54%, where the remaining 46% is your Gross Margin. Net Income will vary on your operational expenses.
Q: WHAT ARE YOUR MODES OF PAYMENT?
A: Outstanding amount should be paid in full during contract signing by either cash or check. If you choose a credit card, there will be an additional service charge of 3.50%. Online Payment or Bank Transfer is also accepted, but for one-time payment only
Q: HOW LONG IS THE AVERAGE TURNAROUND TIME FROM APPLICATION TO APPROVAL?(SIGNING TO OPENING)
A: On average, after completion of requirements, it will take 3-4 weeks before we can get the result of an assessment of your proposed site. Once approved, you can sign the Franchise Agreement, settle payment, and prepare for opening. 3-4 weeks for Carts while 9 weeks to 12 weeks for customized store giving way for design and construction phase.
Q: HOW MUCH IS THE RENEWAL FEE?
A: Renewal fee is 50% of the prevailing Franchise Fee. For example, for a School Cart with P100,000 franchise fee, you will need to pay P50,000 to have it renewedfor the next whole terms.
Q: SHOULD I BE CORPORATE EMPLOYEE TO FRANCHISE?
A: Definitely not! You may apply as a sole proprietor, as partnership, or as a corporation.
Q: DOES POTATO CORNER CHARGE ROYALTY?
Potato Corner contact details
0917-714-2083 or email at iwantfranchise@potatocorner.com.
869 Katarungan St., Barangay Plainview, Mandaluyong City
Walk-ins are welcome, but it is highly recommended to send an email or call to request an appointment. This ensures that someone from the Potato Corner office will be available during the pre-arranged meeting.
7. How long will a franchise application be approved?
The entire process should take about a month to complete, assuming necessary documents are provided and desired location of the shop has been confirmed.