A successful catering business will need all the necessary planning and execution to make things happen. Of course, it also requires the presence of competent manpower and complete set of tools to produce great tasting food and excellent service.
When you operate a food business, a strong case of creativity is among the keys not just in survival, but growing your operations. Just as excellent cooks can come up with tasty menu even with limited ingredients, but it could be as equally challenging to come up with such great meal if kitchen utensils and cooking equipment are lacking.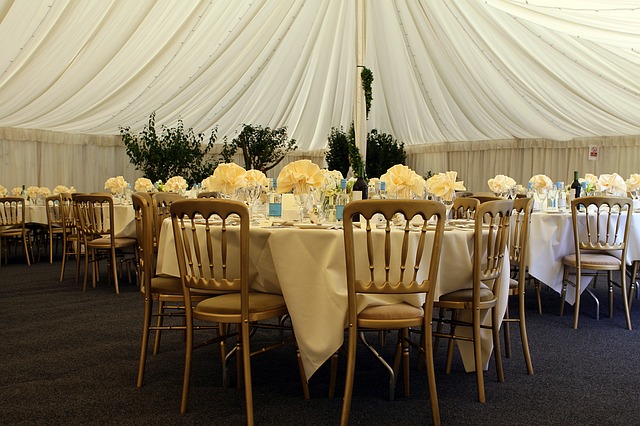 So for those who wish to move on with their businesses as catering entrepreneurs, here is a comprehensive list of the most common equipment to both get you started and get your kitchen an upgrade.
Cooking equipment in the kitchen
Depending on the type of catering service or specialization you do (children's parties, fiesta celebrations, weddings, etc) and the scale of service you are offering, these are mostly what you need in the kitchen.
Gas or electric range for general purpose cooking
Cooking oven for baking
Grill for barbecue
Ice machine for mass serving of cold drinks and juices
Deep-fryer for french fries, tempura, calamari, mozzarella sticks, churros, donuts, etc
Freezer / refrigerator for storing meat, fish and other perishable goods
Sauté pans
Chopping boards
Aluminum foil
Cling wrap
Plastic wrappers
Stock/soup pots
Saucepans
Baking sheets
Pizza screens
Baking pans
Tongs
Spatulas
Ladles
Chef's knives
Pizza paddle
Slicers
Food processors
Whisks
Mixing bowls
Plastic inserts for coolers
Steam table
Entrée plates
Pasta bowls
Appetizer plates
Salad plates
Dessert Plates
Metal or plastic shelves for walk-in cooler
Cleaning rags
Rubber floor mats
Hand soap/ sanitizer dispenser
Aprons
Goggles
Fire extinguisher
Buffet table equipment
If your catering package involves a buffet meal arrangement, this is the checklist you need. This is a crucial part of the operation as both taste and presentation of your food gets into the microscope. Sanitation, food quality and service by your staff — filling in the items that run out — counts a lot. And if you're into buffet experience, setting it right always gets rave reviews from both guests and clients.

Warming trays: to keep the food warm and appetizing during dining period. Have enough trays to accommodate different varieties of food you are serving that require heating. 
Serving containers and associated utensils: Containers and serving ladles, tongs, spoons, spatulas and scissors as needed.
Plates, bowls and cutlery: These will be placed in areas strategically located from the food and drinks to avoid overcrowding and manage flow of guests picking up food.
Long tables: Sturdy enough to carry all food, containers and cutlery. Also comes with table cloth and fabric to both complement decors and help maintain a clean look of the venue.
Food labels: Includes name of dish, allergy warning (if any) and other information such as ingredients, spicy/non-spicy, etc.
Juice/soda dispensers: Placed next to glasses, they hold drinks (cocktail, sodas, juices or cold water) for guest's convenience.
The table setup
If you are not opting for a buffet arrangement, this is the way to go. Having sufficient supply of items in the table is a must; breakage, request for replacement and other instances extra plates or utensils could come handy, As a caterer, having a complete table arrangement generates positive first impression. Otherwise, it'll leave guests a bad reputation not only for you as a caterer but also for the client who could end up badmouthing you and drag down the business. This checklist considers both decorative and functional elements in a buffet or a la cart setting.
With the right tools and equipment, the event will look stunning and guests will have all they need for a comfortable dining experience. Here's a breakdown of the most important table settings to have on your checklist for an event.
Salad plates
Dinner plates and saucers
Bread plates and baskets
Tablecloths and linen
Fabric or paper napkins
Centerpieces
Glassware: keep those that are versatile and can be used across different occasions.
Spoon, knife, forks and other silverware: most occasions don't really need them all; Filipinos are more into spoon and fork.
Wine glasses 
Coasters
Water glasses 
Sugar containers
Salt and pepper shakers
One-off catering items
These are disposables but your event won't be complete without them. Having them handy completes your catering service, from venue decorations to rubbish disposal, these are what you need.
Rubbish bags: Very handy in keeping the venue clean and tidy, before and after the event has concluded.
Pins: Used  in stage decorations, table skirting and sticking things together.
Hand sanitizers: For guests who might look for them.
Hand wash: If venue runs out of them, it's good to have a backup.
Foodbags: For guests to take away food; running out of them on every occasion is a good sign visitors like the menu
Toothpicks: A must-use items for certain guests
Teabags and instant coffee: If venue gets cold and visitors start looking for hot beverage, these a good bet they'll be looking for.