Mang Inasal is a commonly seen and popular barbecue fast food restaurant in the Philippines. Having been established only in 2003, it has grown its reach from its humble origins to a popular mealtime destination in the Philippines.

Its name means mister barbecue in Hiligaynon, where it was initially set up. It fuses traditional Filipino cuisine with the dine-in concept typically adopted by restaurants found in Philippine shopping malls.
Mang Inasal has pioneered the idea of "unlimited rice," and customers have embraced the concept.
In just three years, Mang Inasal expanded to almost 30 branches. And with rising brand value and a growing number of loyal patrons, Mang Inasal was opened for franchising within Visayas and Mindanao in 2005, and soon offered in Luzon.
By 2009, just six years after it was established, Mang Inasal's branches grew to 100.
In 2016, Mang Inasal accepted an offer of a 100% stake of ownership by Jollibee Foods Corporation. As of mid-2017, Mang Inasal has 463 branches nationwide.
With its strong portfolio of Chicken Inasal, Pork BBQ, Halo-Halo, and Palabok, Mang Inasal continuously explored new menu offerings over the years.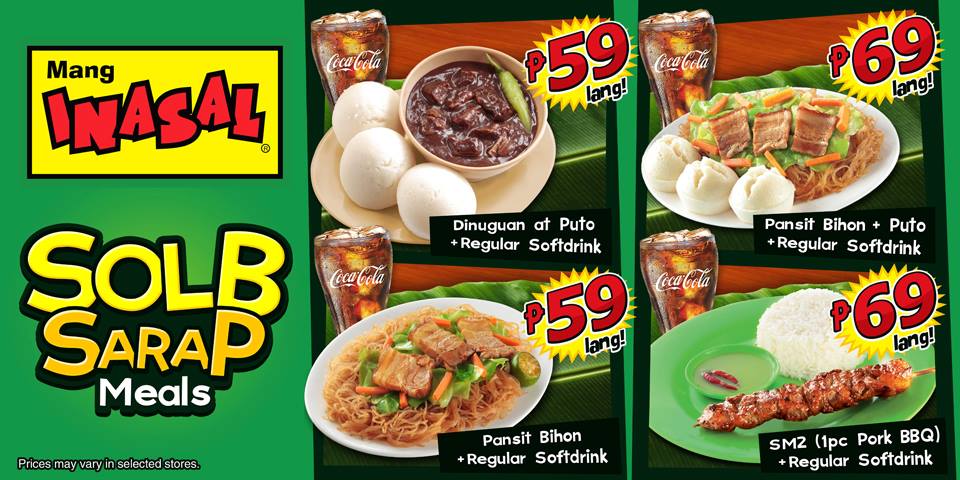 Mang Inasal earned awards such as Outstanding Fast Growing Local Food Company from the 19th Annual National Consumers Awards in 2008, the Most Outstanding Quick Service Restaurant, and Most Outstanding Chicken Inasal restaurant from the 2010 Dangal ng Bayan Awards, and the Outstanding Filipino Franchise Award from the 2015 Franchise Excellence Awards.
Mang Inasal has been successful in leveraging its brand equity. Still, as a subsidiary of Jollibee Foods Corporation, it has been able to penetrate strategic locations within the Philippine market.
It is open to enterprising Filipinos who want to become stakeholders in the fast-growing Chicken Inasal quick service restaurant in the country. Taking a cue from the chicken BBQ-loving Filipinos, Mang Inasal franchise could be one of the most profitable businesses a qualified investor might wish to undertake.
Mang Inasal Franchise Package
Mang Inasal franchise consists of a complete support package that directs to help franchisees operate Mang Inasal quick service restaurants successfully.
Operational System
Marketing & Promotional Support
Initial Hiring & Selection, Extensive training of Store Team
Construction of the Store
Equipment and Facilities
Furniture and Fixtures
Pre-Operating Expenses
Investment Package
Initial Set-Up Fee: ₱1.2 Million VAT exclusive (non-refundable)
Franchise Term: 7 years (Renewable – Sole option & discretion of Franchisor)
Royalty Fee: 5% (Net of Sales)
Advertising Fee: 2% (Net of Sales)
Estimated Investment: ₱12-14 Million
Estimated ROI: Dependent on several factors such as sales, market potential investment & ability of the franchisee to control his operating expenses

Frequently Asked Questions From Prospect Franchisees

Q: What are the qualifications to become a Franchisee of the business?
A: We require our franchisees to be:
Highly engaged, business-oriented, success-driven entrepreneurs with a strong desire to venture and invest in a long-term business partnership with Mang Inasal.
I possess the willingness and capability to learn the business. Although previous restaurant management is an advantage and may be helpful, Mang Inasal does not require past franchise or restaurant experience. Mang Inasal will provide essential business management training that will enable you to run your franchise successfully.
Enjoy working, communicating, and relating with employees and customers
Q: What type of franchise is available?
A: Mang Inasal offers full-store franchise units.
Q: How much is the total investment?
A: The estimated total investment requirement is ₱10 million, depending on the final store type & size. The size of the property required is dependent on the store model that will be developed in a particular market. The floor area requirement may range from 200 sqm to 220 sqm.

Q: What is included in the investment package?
A: The investment includes the initial set-up fee, construction cost, equipment and facilities, furniture and fixtures, air conditioning system, signage, pre-opening expenses, and initial inventory.

Q: What other fees are paid by the franchisee for continuing support services?
A: The continuing services or royalty fee for operating the business is five percent (5%) of net sales and two percent (2%) of net sales for advertising, which will be used for brand-building & mass media advertising.
Q: How long is the payback period?
A: The payback period is dependent on several factors such as sales, market potential investment & the ability of the franchisee to control his operating expenses.

Q: What is the franchise term?
A: The term of the franchise agreement is seven (7) years and is renewable (shall be at the sole option of the Franchisor).

Q: What is the requirement in selecting a location?
A: Site selection is a significant part of the process. The site should be located, preferably in high-traffic commercial/residential areas accessible to both pedestrians and motorists. Site criteria and assessment will be provided prior development of the store. Sample plans and specifications for the physical design and layout of the store shall also be provided.

Q: Who will do architectural planning and construction?
A: Mang Inasal shall assist in the architectural planning and construction process through its accredited architects and contractors. Should you wish to get non-Mang Inasal-approved suppliers, they will be requested to go through the accreditation process before building a store.

Q: How long does it take to open a Mang Inasal restaurant?
A: Each location is different. Once a site is ready for construction, the restaurant is expected to be fully operational in 45-60 days.

Q: Who does the selection and hiring?
A: Mang Inasal shall assist in the recruitment and training of the restaurant management team. The team will then become employees of the franchisee, who will be responsible for their compensation and benefits.

Q: When does the training start?
A: After signing the franchise agreement, the franchisee is required to go through a training program that will enable them to operate their stores by the systems and standards set by Mang Inasal. The program includes classroom courses, seminars, and hands-on training in an existing store.

Q: What form of continuing guidance and support will a franchisee receive?
A: The franchisee will continually be under the guidance of the Mang Inasal operations group which will assist the franchisee and ensure alignment to company goals and standards, and help maximize sales and profitability.

Franchise Application Timeline


Contact Mang Inasal
Mang Inasal
Main Office:
724-1111
Monday to Friday:
8 am-6 pm
Address:
Pioneer Highlands North Condominium, Pioneer Avenue corner Madison St., Mandaluyong City 1550, Philippines